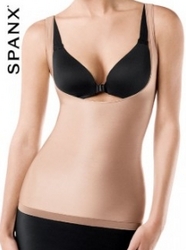 (PRWEB) March 18, 2011
Dreading the transition from heavy winter clothing into skimpier spring and summer numbers? Still feeling out of shape as we head into spring? As the wedding and summer party season looms, Spanx has come to the rescue with their new Slimplicity range which will flatten the tummy, pull in the waist and firm your thighs and bottom. This new range of lightweight but strong shapewear products is available now from MyTights.com and is perfect for wearing under spring and summer outfits.
Like most Spanx products, the Slimplicity range will lift your bottom, flatten your tummy and pull in your waist but what sets it apart from other products is the new super strong fabric which gives great control with only one layer. The development of this super strong spandex fabric is the key to this range of shapewear that is perfect for wearing under light spring and summer clothing. The new Spanx Slimplicity range also has a high shine finish which means fabric will just glide off it. The silky finish means the Slimplicity products will not cling to your clothing making them the perfect accompaniment to close fitting clothing or light summer fabrics.
The Spanx Slimplicity range also shows that shapewear doesn't have to be ugly and embarrassing with products like the Slimplicity Lingerie Strap Slip (£72) and the Lingerie Strap Camisole (£51). Not only will they flatten your tummy and pull in your waist the proper lingerie straps and the pretty but functional detailing around the bust coupled with the sleek and silky fabric gives a more attractive look than many rival shapewear products.
The Spanx Slimplicity range also offers girls with larger busts the choice of open bust camisoles, slips and bodysuits that can be worn with any bra. If you want to make sure you get good support as well as the ultimate in all strong overall shaping the Spanx Slimplicity Open Bust Mid Thigh Bodysuit (£84) offers control across the back, midriff, hips, thighs and bottom.
Spanx have also got tricky necklines sorted with their Slimplicity Strapless Full Slip (£72). If you need to flatten the tummy, pull in the waist and smooth your silhouette to wear a slinky strapless number the Strapless Full Slip is the best product for the job. The thin band of silicone at the top will cling to your skin and keep the slip in place all day and the optional straps can be arranged in a number of different combinations to suit every type of neckline.
Plan your spring and summer wardrobes with confidence with the new Spanx Slimplicity range. Whatever the occasion or the outfit, the Spanx Slimplicity range has got your wobbly bits covered and will be shaping and firming them too. Check out the full Slimplicity range and other Spanx shapewear products at MyTights.com.
Mytights.com is an online hosiery brand specialising in all sorts of hosiery and shapewear, view all Mytights products at http://www.mytights.com
###