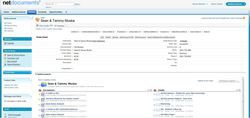 Orem, UT (PRWEB) March 18, 2011
NetDocuments, the leading Software-as-a-Service (SaaS) content management service provider, announced today its continued and accelerated growth as an enterprise document management service for Salesforce CRM customers. View the NetDocuments and Salesforce video at http://www.youtube.com/watch?v=GYZ5np0Rhbs to learn more.
Since 2006, when NetDocuments first released its AppExchange integration, the rich customizable platform of Salesforce and NetDocuments has allowed the applications to be tightly integrated for all types of customers, including enterprise-level organizations such as Extra Space® Storage, as well as hundreds of financial service advisory, consulting and legal firms.
After four and half years, Salesforce's AppExchange currently lists NetDocuments in its rankings:

#1 Most Popular – (All-Time), paid document or content management, (4th overall when including free apps).
2nd Highest-Rated App for document or content management service (2nd to a fax- only service).
Go to http://appexchange.salesforce.com/reviews?listingId=a0N300000016ZXwEAM to read the comments and ratings by typical customers, such as the customer who stated "[NetDocuments] provides our organization with the capabilities we need, with the security we require, at a price we are able to afford." Another customer commented on AppExchange that "I was looking for a SaaS service that would integrate with Salesforce. NetDocs was the only one I could find that would work properly for our needs. It's also HIPAA compliant." Another person stated, "I was looking for a document repository and found it in NetDocuments. It integrates well with Salesforce and I couldn't be more impressed with the entire sales and implementation process. They took the time necessary to make sure the software was working to my standards."
Lauren Nathanson, Records Manager at the 2,200 employee Extra Space Storage stated, "We are currently putting about 5,000 documents a week into our NetDocuments repository. It would not be possible to manage that volume of documents any other way." She continued, "We've been very pleased with NetDocuments and our integration with Salesforce. It really gives us the best of both worlds." (Watch their testimonial video at http://www.youtube.com/watch?v=5SPMfBQoDCw)
Firms such as THiNKGREEN! Global Advisors, Inc. use Salesforce to track their clients and use NetDocuments accessible within Salesforce to manage their client-related documents. Additionally, this blended service has provided a better way to share and collaborate on documents with clients. "We were emailing everything back and forth, and it was eating up all of our space on our [Outlook] Exchange servers. A lot of times when the document in the email was too large, it wouldn't get sent or wouldn't download. Now we know that all of our documents are always available and safe in NetDocuments," said Asmaa Parkar, investment banking associate with THiNKGREEN! Global Advisors, Inc.
An expanding list of vendors, who develop and market their entire application on the Salesforce.com's Force platform, have also embraced NetDocuments as an integral part of their solution offerings, extending Saleforce CRM with a feature-rich and compliant document management service. For example, Concenter Services (http://www.concenterservices.com) offers XLR8, a financial services configuration for Salesforce CRM. Advologix (http://www.advologix.com), a Salesforce top 40 showcase finalist, provides a law firm practice management service on Force.com.
NetDocuments provides a seamless and integrated solution within Salesforce. In addition to supporting single sign-on authentication, NetDocuments can be implemented in a variety of ways: Accessed via a Salesforce tab, a Visualforce section within an account, opportunity, contact or lead, or implemented using a popular approach of using a link within the account page to open another browser window for a dual monitor setup. The client specific documents are dynamically delivered and accessible within Salesforce, with security rights enforced and all the available document options. Documents can be opened, edited, emailed and worked on without leaving Salesforce. Links to the user's most recent documents, a customizable user-specific document dashboard, and extended full-text searching and versioning are all available within Salesforce. Common attribute fields are synchronized to ensure a blended overall service for the user. Further customization can be performed by customers and consulting partners alike to enhance and fit the way they wish these two applications, along with Outlook or other email systems, work together for their needs.
About NetDocuments
NetDocuments is a leading, cloud-computing content management and collaboration service. Organizations of all sizes can save tens to hundreds of thousands of dollars by eliminating the hardware, system and client software, and ongoing administration of a legacy client-server technology model. With the NetDocuments patented service simply "turned on," business professionals can immediately begin storing, managing and sharing documents throughout the world and on any Internet-connected service device. Founded in 1998 and based in Orem, Utah, NetDocuments has customers in over 128 countries. For more information about the company and management, go to http://www.netdocuments.com. Follow NetDocuments on Twitter at @netdocuments or watch the new NetDocuments user interface coming spring 2011 at http://www.netdocuments.com/start
All product and company names herein may be trademarks of their registered owners.
###