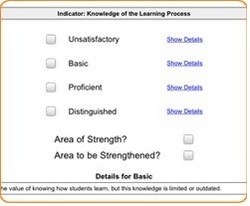 RANDA's iPad app... enables me to have more capacity to observe teacher-learner interactions than the old paperwork method.
Nashville, TN (PRWEB) March 18, 2011
Wilson County Schools has been added to RANDA Solutions' Teacher Observation Pilot Program, field-testing RANDA's Teacher Observation Pilot app for paperless classroom observations. The Wilson pilot is one of seven innovative K12 pilots utilizing eight rubrics, data from which will drive impact studies to be published later this year.
While the entirety of the field data has not been collected and analyzed, early indications from Wilson administrators mirror responses in other participating K12 districts. These administrators repeatedly comment their observations are improving due to a substantial reduction of time managing paper. Moreover, throughout the semester as administrators' iPads are synced with RANDA's system, live updates demonstrate the status of each administrator's observation workload and reports can provide real-time feedback on progress.
"RANDA's iPad app smooths out the evaluation process," says Jeff Luttrell, Principal of Watertown High School. "It enables me to have more capacity to observe teacher-learner interactions than the old paperwork method." Reduced paperwork is proving not only to reduce errors associated with sundry paper forms and recopying notes. Early indications demonstrate substantial direct cost savings associated with using the RANDA's mobile device solution. This approach easily offsets the cost of iPads, software and data management.
RANDA's COO, Adam Engle, explains: "We've been studying school districts' observation-related expenses and found that at current levels of observations, administrators save anywhere from 270 to 300 hours per annum using RANDA's solution." Improved efficiencies are particularly significant in Tennessee as more demanding observation policies are slated to come into effect as of June 2011.
"The TDOE and the Teacher Evaluation Advisory Committee are discussing expanded requirements that effectively triple administrators' observations in some districts. Traditional methods would require up to eight more weeks dedicated to observations," says Engle. "Our initial research shows the RANDA mobile device app and system streamlines the entire process of observations and subsequent documentation by up to 65 percent."
To request information on RANDA's Teacher Observation Pilot app, visit: http://www.randasolutions.com/teacher-observation to complete RANDA's information form or call 615.915.5410.
About RANDA
RANDA Solutions is an INC. 500 software firm based in Nashville, TN serving the education sector. RANDA's tools for administrators and teachers aggregate and manage many types of education intelligence including standardized testing results, formative assessments, teacher evaluations and demographics. Historical and live data reporting, along with additional customized content, is delivered via RANDA's Homeroom secure web portal and integrates seamlessly with RANDA's cross-platform mobile applications for iPads and Android devices. Information on RANDA can be found at http://www.randasolutions.com.
# # #