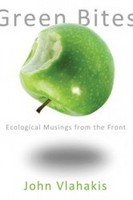 New York, NY (PRWEB) March 16, 2011
Before going "green" was chic, John Vlahakis, president and founder of Earth Friendly Products (http://www.ecos.com) was doing his part to encourage everyone to consider the earth and save its precious resources. In his first book, Green Bites – Ecological Musings from the Front, Vlahakis introduces his tips for green living, essays on preservation and his personal nature photography, which was previously showcased on his highly-trafficked blog, The Earthy Report (http://www.earthyreport.com).
In 1993, Vlahakis launched Earth Friendly Products. He believed in the value of green products and his vision grew from a seedling of an idea to one of the world's largest manufacturers of green cleaning products, and has garnered countless awards for eco-friendly and sustainable practices, including the GEELA, presented to the company in November 2010.
Vlahakis launched his book at the Earth Friendly Products booth at Natural Products Expo West, signing books at the booth on Friday, March 11th and Saturday, March 12th. Once at the booth, convention-goers entered Earth Friendly Products' latest contest for a chance to win two iPads and a year's supply of cleaning products. The contest, which is live on Facebook, encourages green cleaners to nominate their friends and family members who need help finding the path to green cleaning, either because they don't clean at all or use toxic chemicals. The contest is open through April 15, 2011.
Earth Friendly Products is committed to keeping families, children and pets safe from toxic chemicals found in everyday household cleaners and is constantly striving to raise awareness for a green lifestyle. The company manufactures over 150 all-natural, green cleaning products. For more information about Earth Friendly Products and the "Green Clean Team" contest, please visit http://www.ecos.com.
About Earth Friendly Products
Earth Friendly Products is the leader in the development and production of environmentally friendly cleaning supplies for household and commercial use with over 150 products manufactured, distributed, and sold in the USA, Canada, Europe, South America, and Asia. All Earth Friendly Products are created with only replenishable and sustainable plant-based ingredients that are safe for people, pets, and the planet. The company proudly adheres to its strict "Freedom Code", a list of harmful and toxic ingredients that are not found in any its products. Earth Friendly Products has proudly received the 2010 GEELA Award for Sustainable Business Practices, 2009 Green PatriotTM Green 100TM Designation and the Champion level recognition from the US EPA through the Design for the Environment (DfE) Program's Safer Detergents Stewardship Initiative.
EDITOR'S NOTE: For more information about Earth Friendly Products, The Earthy Report, Green Bites, or to speak with John Vlahakis, please contact Nancy Trent or Pamela Wadler at (212) 966-0024.
###