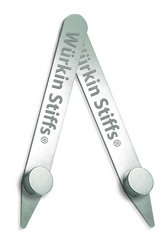 Sarasota, FL (PRWEB) March 17, 2011
Jonathan Boos, the designer and owner of Sarasota, Florida based men's accessories brand, Würkin Stiffs®, will appear in season two of ABC's hit reality series, Shark Tank. The local entrepreneur, who started his company with magnetic collar stays, called Power Stays™, will appear in a special sneak preview episode on SUNDAY, MARCH 20, 2011 (9:00-10:00 p.m., ET).
"From day one, the reaction to our Power Stays™ has been phenomenal," said Jonathan Boos. "In a down economy, however, my biggest challenge has been working capital. Even though the business continues to grow and maintains retail success, it hasn't equated in bank loans to support our strong growth demand. So, I decided to turn to ABC's Shark Tank for their expertise and the capital investment necessary for expansion."
The ABC reality series stars "Sharks"—multi-millionaire business tycoons—who hear investment proposals from entrepreneurs and consider whether to invest in the businesses. Shark investors who will appear throughout the second season are: Dallas Mavericks owner, Mark Cuban, comedian and best selling author, Jeff Foxworthy, real estate mogul Barbara Corcoran, infomercial industry-pioneer Kevin Harrington, technology innovator Robert Herjavec, fashion icon Daymond John and financial expert Kevin O'Leary.
"Each member of the Shark Tank has an inspirational story that includes perseverance," said Boos. "It's my hope they can see themselves in me and want to help Würkin Stiffs® reach its full global potential."
Würkin Stiffs® was established in 2006 shortly after Boos created the first magnetic collar stay as he was preparing for a night out with his wife, Amie Boos. Humbly selling his patented Power Stays™ out of the trunk of his car, he managed to open his first retail account in Sarasota, FL, when he sent his wife into men's specialty stores to introduce the product. The duo went on to open many more local accounts before expanding distribution nationally to such marquee stores as Nordstrom, Bloomingdales and Nieman Marcus.
ABC's Shark Tank premieres Friday, March 25, 2011 at 8pm ET/PT on ABC. Boos will appear in another episode scheduled to air April 22, 2011.
For more information on Würkin Stiffs® or to see its accessories collection, which includes Polo Stays™, cufflinks featuring licensed imagery from Elvis Presley and Muhammad Ali, the artwork of Simon Oxley, Peter Mars and Peter Tunney; knotz™ and wallets, log on to http://www.wurkinstiffs.com.
###