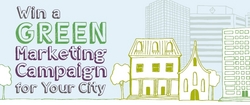 "The City of Green Bay is honored to be painted green by Sherri May & Company...As sustainability continues to be one of our essential goals, the residents will be the true beneficiaries of this opportunity." -Green Bay Mayor Jim Schmitt
Phoenix, AZ (PRWEB) March 17, 2011
For the second time this year, Green Bay, Wis. has been deemed a winner. After reviewing the applications from cities across the country and conducting in-depth interviews with a handful of finalists, Sherri May & Co. is awarding Green Bay, Wis. with a go-green marketing campaign and prize package valued at $87,000. Sherri May & Co. is a creative services firm, headquartered in Phoenix, sponsoring the Paint Your City Green contest.
"The City of Green Bay is honored to be painted green by Sherri May & Company," Green Bay Mayor Jim Schmitt said. "As sustainability continues to be one of our essential goals, the residents will be the true beneficiaries of this opportunity."
The campaign includes professionally designed statement inserts, brochures, avenue banners, billboards, signage and a website. The grand prize also includes 50 gallons of Dunn Edwards Greener by DesignTM eco-efficiency paint for the interior and/or exterior of one city building.
"The quality and quantity of entries exceeded our expectations, making the decision very difficult for us," company owner, Sherri May, said. "It's refreshing to see that sustainability is an important goal for so many cities across the country. But, in the end, Green Bay's goals and their enthusiastic commitment made them a perfect fit for us. We're very excited to work with Green Bay on this project."
The goal of the campaign is to inspire Green Bay residents to adopt new practices that will help reduce energy use, reduce fossil fuel emissions and improve citywide energy efficiency. Green Bay officials will work closely with Sherri May & Co. over the next several months to coordinate campaign details for maximum impact and to track results.
By engaging Green Bay residents, the campaign will help increase awareness as well as help the community gain recognition and a reputation as one of America's greenest cities. Green Bay will also garner recognition as an environmentally safe place to live, which can help encourage economic growth.
To find out more, visit http://www.PaintYourCityGreen.com or call 602-547-7020 x.110.
About Sherri May & Co.
Sherri May & Co. is a creative services and marketing agency founded in 1997. Sherri May & Co. achieves results by developing strategically-sound creative solutions that connect client objectives, budget, timelines and brand. Phoenix-based Sherri May & Co. is best known for their work with financial services companies, but they also cater to the consulting, technology, manufacturing and retail industries. To learn more visit http://www.sherrimayco.com.
# # #