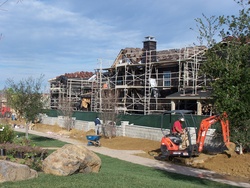 ... $45 million worth of infrastructure construction and grading now are underway for the next phase of housing, roads and habitat restoration
San Diego, CA (PRWEB) March 17, 2011
Del Sur, a master-planned North County community, will open three new neighborhoods on Saturday, March 19, pushing the number of active residential projects to nine at a time when new-home construction elsewhere has slowed dramatically. With approximately 1,000 homes completed, under construction or graded and serviced, the Del Sur master plan is nearly 40 percent complete.
The flurry of residential construction activity at Del Sur is unmatched anywhere in San Diego County, said real estate market consultant Steve Aranoff. It represents a major commitment by developer Black Mountain Ranch and associated builders. The new Del Sur neighborhoods are Carleton and Presidio by Standard Pacific Homes and Valencia by California West Communities.
"There is no other community in San Diego that has that many projects with as wide a range of models, from condos to semi-custom homes on one acre lots," said Aranoff. "Certainly there are developments opening around town, but with nine active projects, two new neighborhood parks, habitat restoration and new and expanded roads, there just isn't anything approaching the magnitude at Del Sur."
In addition to the three new housing projects, additional phases of homes are being built at Del Sur's Sentinels by Davidson, at Madeira and Mandolin by Shea Homes and at Pasado by William Lyon Homes. Homes also continue to sell at Standard Pacific's Bridgewalk.
Alan Nevin, director of economic research at MarketPointe Realty Advisors, says Del Sur's combination of upscale homes and the quality of local schools has enabled it to forge ahead while many other housing developments have put on the brakes. Another plus for Del Sur is that local contractors have reduced fees to remain competitive. The homes at Del Sur are well placed to realize gains in value as the economy recovers.
"Three or four years from now, those homes will not be able to be reproduced for anywhere near what they are selling for now," Nevin said.
Del Sur is located in the coastal hills of North County, a short drive from the coast on State Route 56. The master-planned community's neighborhood schools, Del Sur Elementary and Del Norte High School, are part of the prestigious Poway Unified School District.
Del Sur's philosophy is not just about providing homes, but about creating fully developed communities, said Bill Ostrem, president and CEO of Black Mountain Ranch, developer of Del Sur.
"That's what has helped hold the value at this particular master-planned community," he said. "Despite the slowdown, Del Sur is aggressively diversifying its product and delivering significantly larger homes on larger lots to the marketplace."
Del Sur's three new neighborhoods will have a total of nine new model homes.
Projects opening on March 19 are:

Carleton. It was named after the influential San Diego architect Carleton Winslow. Across the street from Kristen Glen Park, it features 70 home sites priced from the mid $600,000s and three architecturally diverse floor plans, ranging from 2,621 to 3,059 square feet.
Valencia. It features 54 home sites and three visually appealing and highly functional floor plans. The homes range from 2,996 to 3,495 square feet. The three-bathroom dwellings have four to five bedrooms plus optional craft room, office and tech space. Prices range from the high $600,000s.
Presidio. It includes 52 home sites, with prices from the $700,000s. There are three generous floor plans that range from 3,461 to 3,748 square feet of living space. The four-bedroom, 4.5-bath homes include bonus rooms. The homes are inspired by Spanish, Italian and Mediterranean architecture.
Two new parks also open on March 19, bringing the total number of completed neighborhood parks to six. Ultimately eight will be built, six with swimming pools and each reflecting the character of surrounding neighborhoods. Instead of having to drive to a large recreation complex, Del Sur residents can walk to their own community parks.
Kristen Glen Park includes a solar-heated lap pool, a stone-and-grass labyrinth, a barbecue and fireplace. Old Stonefield Park integrates the natural beauty of Del Sur's wildflower meadows and trails with quaint French Countryside architecture. It includes a dog park and a solar-heated pool.
Del Sur was developed to combine a high quality of life with respect for the natural environment. Habitat is now being restored with native and drought-tolerant plants along Lusardi Creek and on nearby hillsides. Approximately 180 acres have been designated as additional open space because plans for a resort hotel and golf course were abandoned. The former hotel site, on 30 acres, is now being graded for approximately 300 age-restricted dwellings.
The community has a strong economic base to support new housing, said Ostrem. "This area remains strong because of the new highly rated schools and proximity to the high-tech employment centers on the I-15 corridor. These are companies that are thriving, not impacted by the economy the way other industries are."
Ostrem noted that $45 million worth of infrastructure construction and grading now are under way for the next phase of housing, roads and habitat restoration. Some of the new dwellings will serve as move-up housing for current residents with growing families.
"We have witnessed the maturing of the community," Ostrem said. "We are responding to a real need for bigger traditional family homes. Because of the schools, people want to stay here and raise their kids here. They just need bigger houses to accommodate their larger households."
More information about Del Sur can be found at http://www.DelSurLiving.com or by calling call 858-481-4200.
###