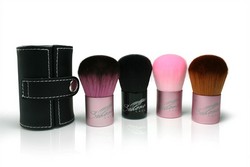 Riverview, FL (PRWEB) March 18, 2011
Sedona Lace has today announced the availability of the highest quality kabuki brushes and kabuki luggage to their customers. Sedona Lace is well known for their professional quality cosmetics and brushes, and the new kabuki brushes are certainly in keeping with their reputation for quality and affordability.
Sedona Lace offers four new kabuki brushes in a selection of different colors. This allows their customers to find the perfect brush and color to match their personal sense of style and beauty. Currently, customers can choose from a mocha kabuki brush, a black velvet brush, a cotton candy brush and "midnight lace," which is a combination of the colors found with the cotton candy and black velvet kabuki brushes.
Each of these new kabuki brushes features ultra-soft synthetic bristles designed not to absorb too much product. They are also designed to guarantee that the makeup remains on the bristle tips, ensuring better coverage for skin without any hassles. No matter what color brush a customer chooses, they can rest assured that they are getting the best kabuki brush on the market, for the best price possible.
For customers who want to carry their kabuki brush with them, but make certain that it is protected at all times, Sedona Lace also offers elegant kabuki luggage. This case is stylish and eye-catching, but it also offers the utmost in protection for kabuki brushes, allowing customers to carry their brush in their purse, makeup kit or anywhere else without fear that the brush will be damaged or that the bristles will be crushed or bent.
In addition to their selection of kabuki brushes and luggage, Sedona Lace offers a wide range of top-quality cosmetics and other brushes, as well.
To find out more about the beauty products, cosmetics and kabuki brushes available through Sedona Lace, visit the company at http://www.SedonaLace.com.
About Sedona Lace: Sedona Lace specializes in providing their customers with the highest quality cosmetics and application brushes to achieve professional results. From metals to pastels and earth tones, customers will find everything they need to create the look they desire with the professional quality selections from Sedona Lace.
###