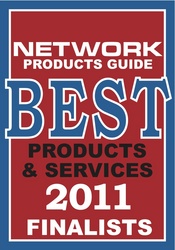 It's an honor to be named a finalist by Network Products Guide for this esteemed industry and peer award
Melville, NY (PRWEB) March 17, 2011
Nastel Technologies, a premier global provider of business transaction performance solutions for mission-critical applications spanning the distributed, mainframe and cloud tiers, announced today that Network Products Guide, industry's leading technology research and advisory guide, has named AutoPilot® M6 as a Virtual Appliance a finalist for the 6th Annual 2011 Hot Companies and Best Products Awards in the Business Transaction Management category. These industry and peer awards from Network Products Guide are the world's premier information technology awards honoring achievements and recognitions in every facet of the IT industry. Winners will be honored in Las Vegas on Tuesday, May 10, 2011 during the 6th annual dinner and presentations.
With AutoPilot M6 as a Virtual Appliance, AutoPilot M6, TransactionWorks™ and AutoPilot for Middleware are available preinstalled in a virtual software appliance, promoting rapid deployment, quick provisioning and high-availability for mission critical environments.
AutoPilot M6 gives IT professionals, enterprise architects and application owners a 360-degree situational awareness™ of the entire IT environment, including both transactional and operational data in a unified business context. The solution, with its built-in complex event processing engine, enables management teams to identify and fix problems—even predict and prevent them—before they compromise SLA or other compliance standards.
An annual achievements and recognition awards program with active participation from a broad spectrum of industry voices, the coveted annual Hot Companies and Best Products recognition program encompasses the world's best in organizational performance, products and services, executives and management teams, successful deployments, product management and engineering, support and customer satisfaction, and public relations in every area of information technology.
"It's an honor to be named a finalist by Network Products Guide for this esteemed industry and peer award," said Charley Rich, VP Product Management and Marketing for Nastel. "This further validates our position as a company meeting the needs of business application owners seeking to ensure the availability, performance and compliance of their business critical applications. Nastel provides the most comprehensive and effective solution for managing the complexity inherent in today's composite business applications through its ability to auto discover applications and business transactions, provide real-time deep-dive information about each application and transaction and proactively notify you about problems before your users are impacted."
About Network Products Guide Awards
As industry's leading technology research and advisory publication, Network Products Guide plays a vital role in keeping decision makers and end-users informed of the choices they can make in all areas of information technology. You will discover a wealth of information and tools in this guide including the best products and services, roadmaps, industry directions, technology advancements and independent product evaluations that facilitate in making the most pertinent technology decisions impacting business and personal goals. The guide follows conscientious research methodologies developed and enhanced by industry experts. To learn more, visit http://www.networkproductsguide.com.
About Nastel AutoPilot
Nastel's business transaction management / application performance management solution, AutoPilot ensures the availability and performance of critical business applications via auto discovery, business transaction management, real-time monitoring, dynamic dashboards, complex event processing, application performance analysis, root cause analysis, proactive alerting and automated problem resolution.
Our customers in the line of business, development and IT utilize AutoPilot to guarantee high application performance, compliance, reduced user impact, fewer incidents, lower costs and greater productivity.
About Nastel
Nastel Technologies is a premier global provider of business transaction performance™ solutions for mission-critical applications. Nastel is a privately held company headquartered in New York, with offices in the U.S., the U.K., Germany and Mexico, and a network of partners throughout Europe, the Middle East, Latin America and Asia. For more information, visit Nastel's website at http://www.nastel.com.
###