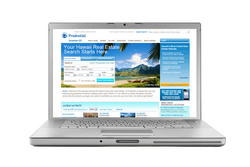 Honolulu, HI (PRWEB) March 18, 2011
Prudential Locations, Hawaii's largest locally owned and operated real estate company, is utilizing the latest technology to satisfy the needs of consumers interested in Hawaii real estate by transforming its website, PrudentialLocations.com into Hawaii's most complete database of properties for sale. Alongside the standard MLS listings, the sophisticated new site is the first to include inventory from Hawaii auction foreclosures, properties for sale by owner, as well as new construction homes and condominiums, all in one easy-to-navigate website.
"Quite simply, the new PrudentialLocations.com website is the world's most comprehensive source for Hawaii real estate," said Tracy Behler, executive vice president of customer relationship development. "Consumers now have a smarter, easier way to shop for Hawaii properties and feel confident they have access to everything that's out there."
Designed to meet the needs of consumers across the board, the easy-to-navigate site makes it faster and simpler for individuals to find exactly what they are looking for. Curious homeowners can dig up information on the for-sale sign across the street, prospective buyers can easily locate open houses with the dynamic map and investors from across the globe can check up on pricing and trends for comparable properties. With more than 60 data points available for each property, including historical pricing; cost per square foot and neighborhood sales activity charts – consumers are armed with the details necessary to make informed property comparisons and smart real estate decisions.
For example, a basic search can be narrowed down to list all pet-friendly condominiums in Waikiki with two bedrooms and a parking stall, or identify single-family homes on Oahu's North Shore under one million dollars in a specific school district. The foreclosure section alone features more than 1,000 listings and each search can be narrowed down by neighborhood, price, bedrooms and bath.
Personalization on the site makes the user experience more efficient and practical. Consumers can track and save a property, receiving instant email updates if anything changes or when new listings come on the market. Property information is given in real time, so the minute a new property comes on the market, or information changes – it is updated on the website. With the click of a button, users can instantly access a Prudential Locations agent to get more information or ask a question.
"Being at the forefront of technology and sharing insight on real estate with consumers is nothing new to Prudential Locations; the company was one of the first real estate agencies in the nation to publish MLS data on its website for public consumption -- offering data formerly only available to real estate agents and revolutionizing the industry," added Behler.
The newly redesigned PrudentialLocations.com comes on the heels of the company launching mobile applications for the iPhone, Android, iPad and iTouch devices that, among other tools, utilizes a global positioning system to locate properties in the vicinity of their current location. House hunters can simply drive around neighborhoods they are interested in purchasing and the application automatically uploads all properties for sale in that specific area – saving valuable time and money.
According to the National Association of Realtors, more than 90 percent of buyers use the Internet in their home search – Prudential Locations is pleased to accommodate this growing demand by presenting Hawaii's most comprehensive database for Oahu, Maui, the Island of Hawaii, Kauai, Molokai and Lanai at PrudentialLocations.com and its corresponding mobile applications.
About Prudential Locations
Prudential Locations LLC is a multi-faceted real estate company with a rich kama'aina tradition in the islands of Hawaii that boasts more than four decades of extensive local experience and connections to offer its clients. To benefit customers, the Prudential Locations website, http://www.PrudentialLocations.com, shows every home, land, condo and real estate listing on Oahu, Maui, Big Island, Kauai, Molokai, and Lanai, with detailed property information to assist its clients. By being a leader in real estate market research and knowledge and continually training more than 240 real estate agents, Prudential Locations produced more than $1 billion in sales in 2009. Prudential Locations Hawaii is ranked in the top four percent of all Prudential Real Estate affiliates. Recently it earned the distinction of Hawaii's top brokerage firm for both transactions and sales volume by the RIS 2008 Power Broker Survey and REALTOR® Magazine's national Top 100 list. Prudential Locations was established in 1969 with offices and affiliates throughout the state, and is an independently owned and operated member of the Prudential Real Estate Affiliates, Inc.
# # #