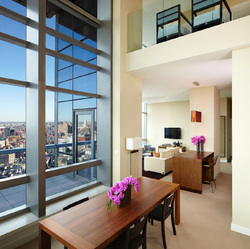 The Trump SoHo collection of penthouses stands well above any other penthouse offering in downtown New York with unparalleled views, incredible layouts, top-of-the-line luxury fixtures and finishes and convenient turn-key living.
New York (PRWEB) March 18, 2011
Trump SoHo Hotel Condominium New York (Trump SoHo), the impressive 46-story silver-glass building located at 246 Spring St. in Manhattan, has just unveiled 11 penthouses in the sleek tower designed by Handel Architects with interiors by the Rockwell Group and custom furnishings by Fendi Casa. There are 10 two-bedroom penthouses, more than in any other Manhattan hotel, and one duplex terrace penthouse. The recently re-launched property has just unveiled new pricing, and penthouses in this new pricing structure range from approximately $2.5 million to $8.7 million.
"We are thrilled to unveil the penthouse suites at Trump SoHo to discerning buyers," said Rodrigo Nino, founder and president of Prodigy Network, the exclusive marketing and sales agent for Trump SoHo. "These suites had an incredibly successful hotel debut in February. The penthouse suites literally look out over all of SoHo and the city skyline, Hudson River, multiple bridges and more. Purchasers at Trump SoHo have all the services, amenities and luxury appointments of a world-class hotel at their disposal, plus the cache that comes with owning one of these incredible penthouses."
A joint venture among The Sapir Organization, Bayrock Group, LLC and an affiliate of the Trump Organization, Trump SoHo boasts 391 hotel condominium studios, suites and penthouses with unrivaled views of the city skyline, the Hudson River, Statue of Liberty and Empire State Building. Owners are able to use their fully furnished and serviced units for up to 120 nights each year. When not in use by owners, they are placed into an available rental management program providing a convenient ownership model. All of the amenities and services are in place and available to owners and guests. Financing is available for qualified buyers through CalCon Mutual Mortgage.
All 11 penthouses at Trump SoHo feature luxurious custom furnishings in a rich color palette of sand and brown with contrasting masculine and feminine notes of wood, bronze, burgundy and ivory. Hand-finished details include precious metals, and high-tech, new-generation fabrics blending seamlessly with luxurious suede and printed leather. Penthouses also feature a wet bar, Sub Zero refrigerator and wine cooler.
These suites also feature expansive baths with custom fixtures and marble unique to the building's penthouses, a detached shower and soaking tub overlooking the City, and a separate enclosure for the water closet. Fendi Casa has custom-designed furniture in each of the units, with carpets, draperies and lighting in each of the units designed by the World renowned David Rockwell, and large flat-screen televisions and integrated media systems are included in each as well.
The crown-jewel penthouse is a 2,331-square-foot two-bedroom, 2.5 bath duplex penthouse on the 43rd and 44th floors with a 378-square-foot terrace and double-height floor-to-ceiling windows with sweeping views. The bi-level space has separate parlor areas and bedrooms on each floor and has an asking price of $8.7 million.
"The Trump SoHo collection of penthouses stands well above any other penthouse offering in downtown New York with unparalleled views, incredible layouts, top-of-the-line luxury fixtures and finishes and convenient turn-key living," said Ivanka Trump. "As a quintessential Trump property, these penthouses will offer the luxury demanded by the most discerning domestic and international traveler and frequent New York visitor."
Trump SoHo offers world-class dining at Quattro Gastronomia Italiana, the second location of the acclaimed South Beach restaurant; Kastel cocktail lounge; The Spa at Trump®, with New York's first luxury Turkish hammams; Bar d'Eau, a seasonal indoor-outdoor bar along the pool; and The Library, complete with books by TASCHEN.
Owners and guests also enjoy the resources of Trump Attaché, a luxury on-site concierge; a state-of-the-art fitness center; SoHi, an 1,800-square-foot top-floor private venue; an open-air urban plaza along the east side of the property; a 30-person screening room; a private business center and an event space for up to 220 guests, as well as 24-hour room service, evening turndown service, and more.
Trump SoHo is a favorite of A-list celebrities and a premier event location. It is surrounded by some of Manhattan's best shopping, art galleries, restaurants and nightlife.
For more information, to visit the onsite sales gallery or to schedule a private appointment, call 212.965.0008 or visit http://www.trumpsoho.com.
The Sapir Organization
The Sapir Organization is a private, family owned real estate holding and development firm with over six million square feet of prime commercial and residential properties in Manhattan. The Sapir Organization owns, develops, and manages architectural landmarks, iconic commercial properties, and luxury downtown residences such as 11 Madison Avenue, 2 Broadway, 260 Madison Avenue, 261 Madison Avenue, 50 Murray Street, 53 Park Place, and Trump SoHo Hotel Condominium. The company's vision is to continue to expand its real estate and equity holdings in Manhattan as well as other major markets in the U.S. http://www.sapir.com.
Bayrock Group, LLC
Bayrock Group, LLC, is an international real estate investment and development company, specializing in luxury residential, commercial, resort, hotel, and mixed-use projects. In the United States, Bayrock is currently developing projects in New York and Florida. http://www.bayrockgroup.com
Prodigy Network
Prodigy Network is a fully integrated real estate company, dedicated to representing third-party developers as the exclusive organization for sales and marketing of premier condominium projects. The company has an impressive track record of driving sophisticated buyers to the most exclusive properties in New York, Miami, Dominican Republic, Panama, Mexico and Costa Rica, through a global network of brokers from locations around the world including Spain, Italy, Switzerland, Russia, Colombia, Argentina, Mexico, India, Singapore, China, Hong Kong, and Korea. http://www.prodigynetwork.com
###