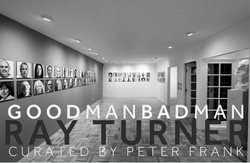 "The more Ray Turner paints faces, the less he knows and the more curious he gets – about faces, and about how we face them." - Peter Frank
Los Angeles, CA (PRWEB) March 17, 2011
RIVERA & RIVERA is pleased to present a solo show of portrait paintings and sculpture by American artist Ray Turner. The opening reception will take place from 6:30 to 9:30PM on Saturday, March 19, 2011 at the gallery's new West Hollywood location. The series of portraits, executed with oil paint on glass, examines the subtleties of physical variation and society's preoccupation with faces. The exhibit travels to the Long Beach Museum of Contemporary Art in June.
Curated by Peter Frank, the exhibit includes over two hundred selected works from Ray Turner's perpetually-expanding portrait series, Population. This traveling installation that comprises over two thousand pieces presents Turner's unique interpretations of the physical appearance of both individuals whom the artist is closely associated with and those in the general public.
Ray Turner approaches this new body of work with undistracted intensity at the secondary and peripheral factors of the face. Our prejudices, Turner deduces, derive from our facial preoccupation, our need to compare one face with another in order to determine everything from superficial beauty to the nature of the soul. Who, asks Turner, is a "bad man" and who is "good" - and how can we tell who is who, simply from the signals their faces send us? Before actions speak and words are spoken, what do we truly know? Indeed how hard-wired are we to read faces? How immediately? How deeply and intricately? The more Ray Turner paints faces, the less he knows and the more curious he gets about faces, and how we face them.
Ray Turner lives and works in Pasadena, California. He received his BFA from Art Center College of Design in 1985 where he subsequently taught for 13 years as a professor of painting and drawing. His work has been exhibited regularly in the United States since 1990 and is included in major collections such as The Riverside Museum of Art and the Laguna Museum of Art. In 2010, his paintings were shown at the Pasadena Museum of California Art alongside Wayne Thiebaud.
Peter Frank is the Senior Curator at the Riverside Art Museum. He has been an art critic for The Huffington Post, Angeleno Magazine, LA Weekly and The Village Voice.
RIVERA & RIVERA Gallery, located in West Hollywood, is housed in a space designed by the Museum of Contemporary Art's architect, Arata Isosaki. The gallery represents mid-career and established artists. RIVERA & RIVERA's roster of artists have 22 museums shows aligned through 2013, including the Museum of Contemporary Art in Los Angeles and the Pasadena Museum of California Art.
RIVERA & RIVERA is located at: 454 N. Robertson Boulevard West Hollywood, CA 90048
For Press Inquiries, please contact press (at) riveraandriveragallery (dot) com
###