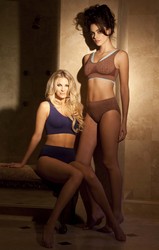 New York (PRWEB) March 17, 2011
Don't feel blah in your bra! Actress, comedian, and businesswoman Rhonda Shear is helping women worldwide breathe a big sigh of relief with her revolutionary Ahh Bra. The first bra designed with the modern woman's lifestyle in mind, Ahh Bra enhances your assets, eliminates discomfort and trouble spots and is perfect for everyday wear. Woman of all shapes and sizes will feel confident and sexy with Ahh Bra's contoured fit, superior support and unique wearability. Finally, a bra comfortable enough to sleep in and keep your petals perked up.
Utilizing seamless technology, the latest fabrications and a fashionably functional style, Rhonda Shear's Ahh Bra provides the support you need while enhancing the shape you crave. The number one bestseller, Ahh Bra kicks underwire to the curb. Four way stretch allows the Ahh Bra to mold to your curves, for a fit that seems custom made. The Ahh Bra eliminates pinching, bra lines, and dreaded back bulge. With over 5 million sold worldwide, women everywhere are saying "ahh".
Emmy-nominated costume designer Warden Neil raves about the Ahh Bra on the sets of "America's Got Talent" and "Dancing with the Stars. "It's especially good for my clients that perform; it is a great comfortable undergarment for wardrobe." Not quite spotlight ready? Ahh Bra's slenderizing fit adjusts as you trim and tone.
During her 25 years in the spotlight, Rhonda Shear learned the art of illusion and camouflage from Hollywood's top costume designers. She created an intimates line that was fresh, innovative, and glamorous to share these tricks of the trade. Rhonda Shear intimates is a line designed by a woman, for women everywhere. For more information, visit http://www.RhondaShear.com.
ABOUT RHONDA SHEAR
From her beginnings on the pageant circuit and campaign trail, to hosting USA's "Up All Night," a nationwide comedy tour, and features in People and PLAYBOY, Rhonda Shear has proven that smart and sexy are a compelling combo. Her latest endeavor, Rhonda Shear intimates, is a true passion project, with designs that focus on comfort and support without sacrificing femininity or style. With tremendous success on HSN, The Shopping Channel: Canada, and other shopping channels, Rhonda continues to develop her line and empower women worldwide.
EDITOR'S NOTE: For more information contact Pamela Wadler or Nancy Trent at 212-966-0024 or pam(at)trentandcompany(dot)com.
# # #