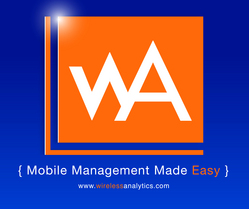 Danvers, MA (PRWEB) March 17, 2011
Wireless Analytics, LLC, ranked one of the top two Wireless Mobility Management (WMM) companies in the country by AOTMP's annual enterprise customer satisfaction survey; announced today the signing of its newest client, LAZ Parking of Hartford, Connecticut.
"We are very pleased to be recognized for the work we do every day for our customers" said Erik Eames, Founder and Managing Director of Wireless Analytics, LLC. "Wireless Analytics CLEAN Platform™ (carrier line expense analysis) enables companies to gain control of their wireless mobility process, providing increased visibility and control of the wireless telecommunications spend—often one the largest expense within an organization. With the CLEAN Platform ™, companies report savings in the millions of dollars, or from 18% - 43% of their annual wireless telecom budget, by more effectively managing their entire lifecycle of communication processes including: device procurement and provisioning, inventory management, invoice auditing, Carrier management and cost analysis and reporting.
LAZ Parking when evaluating their wireless mobility process discovered that their IT and telecom departments have an increasing need for third-party support and solutions as a result of the growing complexity of wireless applications and devices like Blackberrys, iPhones and Android devices. While there are suppliers in the wireless mobility landscape that focus on cost reduction only, LAZ determined early on that what was needed within their organization was a supplier that would not only reduce costs but also drive efficiencies in the ever-changing wireless landscape.
Wireless Analytics, LLC is a leading supplier of wireless mobility management solutions for mid-to large sized enterprise organizations. Based in Danvers, MA, Wireless Analytics offers a complete outsourced wireless solution, including procurement, inventory management, expense management, help desk services and reporting. To find out more, please visit http://www.wirelessanalytics.com.
LAZ is a national parking company, headquartered in Hartford, CT, with regional offices in Atlanta, Boston, Chicago, Dallas, Miami, New York, Philadelphia, Baltimore and Washington, D.C. In existence for over 29 years, LAZ has over 425,000 parking spaces under management in 21 states and does business in excess of $500 million in annual revenues. LAZ's parking portfolio includes Class A office buildings, mixed use projects, hotels, hospitals and medical complexes, stand alone garages, surface lots, valet parking sites, concierge services, transportation intermodals, major entertainment/event parking, and university parking. To find out more, please visit http://www.lazparking.com.
Contact:
Fernando Oliveira, Media Relations
foliveira(at)wirelessanalytics(dot)com
888-588-5550 ext 115
# # #