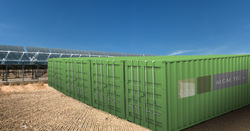 "The ADR Program will give USA energy and cleantech investors access to shares in the company, which is in a high growth phase establishing facilities in Australia and Asia." - Roger Stroud, Executive Chairman of Algae.Tec
Perth, Western Australia and Atlanta, GA (PRWEB) March 16, 2011
Algae.Tec Limited (ASX: AEB) an advanced biofuels company with a high-yield enclosed algae growth and harvesting system - the McConchie-Stroud System - announced today the opening of the Algae Development & Manufacturing Centre in Atlanta, Georgia where the photo-bioreactors will be assembled for shipping around the world.
The company also announced it had appointed the Bank of New York Mellon (BNY Mellon) to commence the establishment of a Level 1 American Depositary Receipt (ADR) Program. The company also recently listed on the Frankfurt Stock Exchange (FWB).
Algae.Tec Executive Chairman Roger Stroud said the ADR Program would give USA energy and cleantech investors access to shares in the company, which is in a high growth phase establishing facilities in Australia and Asia.
US-based Algae.Tec COO Earl McConchie was in Australia in February to select the site for the demonstration plant at The Manildra Group's ethanol facility at Nowra south of Sydney, the largest ethanol producer in Australia.
The Algae.Tec solution is less than one tenth the land footprint as pond growth options, while its enclosed module system is designed to produce algae biomass in virtually any environment on the planet.
The Algae Development & Manufacturing Centre in Atlanta is an 18,200 square foot (5,547 square metres) fabrication facility.
"The Centre is currently being modified to enable the retrofitting process of the 40-foot steel shipping container algae growth modules, ready for the first module delivery to the Centre in April," said Stroud.
"The photo-bioreactors which are at the heart of the McConchie-Stroud algae production technology are designed to produce valuable sustainable biofuels including biodiesel and green jet biofuels."
"The technology also captures carbon pollution from power stations and manufacturing facilities which feed into the algae growth system."
"It is very positive for the economy, the environment, and the sustainable fuel industry."
The enclosed modular system is designed to deliver the highest yield of algae per hectare, and solves the problem of food-producing land being turned over for biofuel production.
About Algae.Tec
Algae.Tec was founded in 2008 and has offices in Atlanta, Georgia and Perth, Western Australia. The initial two commercial facilities will be deployed in China and Australia. The target size is a minimum of 250 modules in each location.
Additionally, the company has an MOU with Leighton Contractors for engineering and project management expertise. It has a highly experienced global team with over 200 years of technical, professional and business expertise in key energy and environmental industries and core competencies in biofuel technologies and energy markets. Algae.Tec has conducted hundreds of laboratory, bench-scale tests and product trials to-date; assessed competitive algae technologies; and has applied the pilot plant results to detailed engineering evaluations of commercial plant operations.
Collectively, these activities have led to the development of technology and know-how for high efficiency production of microalgae via a modular photo-bioreactor system and improved algae harvesting and product refinement technologies. Its algae technology has demonstrated exceptional performance in productivity, product yield, carbon dioxide sequestration, and production unit footprint requirements versus agricultural crops and other competitive algae processes in the industry.
Six algae species have been chosen, out of sixty studied. The preferred species are composed of approximately, 50% algal (vegetable) oil, and the biomass comprises 30% simple sugars and 20% edible protein. Consistent pilot plant production data, as outlined in Section 6.4 of the recent Prospectus, details that one module can produce 250 tonnes of dry algal matter per annum. Currently market prices for crude vegetable oil exceed $US1,000 per tonne, and for biomass of similar chemistry exceed $US400 per tonne, which would result in an estimated $US700 revenue per tonne, $US175,000 revenue per year per module.
Operating costs are estimated to be $US185 per tonne of production or $US46,250 per annum, per module. Based on a minimum of 200 modules, capital costs, including all ancillary, harvesting and separation equipment, are estimated to be $US125,000 per module, or $50 per tonne based on a 10 year module life.
###