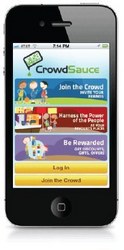 Deal-of-the-day sites send you a deal they want to sell you, our approach is to source deals for you based on what YOU want
(PRWEB) March 18, 2011
Think of your favorite restaurant or retail store, now imagine being able to ask for a discount and then getting a deal from that business. CrowdSauce is a new location aware app that empowers consumers by allowing them to ask for deals.
With the location aware iPhone app the user can view nearby businesses. Once they select a business they view details on the business and can press 'Reward Me' to request a deal from that business. CrowdSauce then lets users share the request with friends via Facebook, Twitter and email in a virtual Flash Mob to build the crowd of people who would like a deal from that business.
As the crowd each business grows, the business will have the option of promoting deals to their crowd via exclusive deal-of-the-day style offers. CrowdSauce also rewards active users through points, medals and ranks that entitle them to additional exclusive deals.
CrowdSauce founder and CEO Slade Sherman says that the app is designed to give people deals from the businesses they like, rather than the deal-of-the-day approach of blasting a single deal to a large database. "Deal-of-the-day sites send you a deal they want to sell you, our approach is to source deals for you based on what YOU want" says Sherman.
He continues "We allow a business to tailor a deal specifically for their crowd (those that have requested a deal from that business) and this gives the business more control and better engagement with their loyal customers".
CrowdSauce is currently available in Australia and the US and has been selected as part of the Startup Showcase at the Web2.0 Expo on 29th March in San Francisco. To join CrowdSauce, register at http://www.crowdsauce.com or download the CrowdSauce iPhone app at the Apple Store.
###