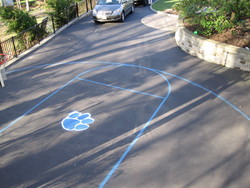 "There is no question adding a driveway basketball court with a 1/2 court stencil in your child's school colors with their logo in the key and a matching pole pad will encourage them to play outside more. There's no question."
Morristown, NJ (PRWEB) March 18, 2011
"March Madness" is a special time in America. Millions of American families sit in front of the TV and watch the best of the best of what our collegiate student-athletes have to offer. Hundreds of thousands of Americans fill out bracket sheets following this single elimination tournament. With so many people to include President Obama following this tournament, wouldn't it be great to use this opportunity to encourage children to play outside more? Basketball hoop installer, Home Court Hoops, is hoping to do just this by offering a "March Madness" special. When any homeowner or parent purchases a basketball goal or basketball hoop installation from Home Court Hoops, they are offering a FREE 1/2 court stencil in any color.
According to its owner, Mike Westhead, it can't help but encourage kids to play outside more, "When I was a kid we used to have to make up shots when we played games such as HORSE or OUT. It would have been so much more fun if we were able to pretend we were shooting the game winning 3-point shot or play AROUND THE WORLD with an actual 3-point line. Or how about playing two-on-two? What if you were able to include a free throw shooting aspect such as one-and-one situations?"
Having a driveway basketball court has additional benefits such as peace of mind for the parent. Westhead feels there's also some practical benefits to getting kids to play outside more. "Many parents are nervous about where their children play. When you have a court in your own driveway, you know where they are. Also, let's be honest. When kids hang around the house they can drive you nuts. When your kids spend more time outside, it gives you more time to relax or accomplish things inside. I'd rather have them outside bouncing balls then inside bouncing off the walls."
Having a custom driveway basketball court has its practical benefits too. "Most people will get a basketball system and a 1/2 court stencil for the fun of it but there is also a segment of kids who play basketball where having a 3-point and free throw line gives them the chance to hone their skill with practice and repetition."
When you get a theme-based court with a matching pole pad and logo in the center of the key it gives the entire family the opportunity to share the experience. According to Westhead, many parents want to share their love of their alma mater or favorite college team with their child. "Let's face it. Parents want to brainwash their kids to be rabid fans of where they went to school or their favorite team. For instance, if you own an adjustable basketball hoop, having a pole pad and lines painted in their team's colors with a logo of their team in the center of the key really puts them in the spirit of their school and we can do over 50 of the major college programs." Due to NCAA licensing issues, Westhead points out that collegiate logos are not part of the free package but can be purchased for, roughly, an additional $75.
Westhead, a former Marine, believes having a driveway basketball court is a force multiplier, "Studies have shown exercise helps kids not only eat better but they sleep better too. One of the toughest obstacles to getting kids to play outside is they'd rather play a video game because it's visually stimulating and fun. Having the ability to offer theme-based 1/2 court with their basketball hoop is a powerful motivator for movement."
HomeCourtHoops.com is a full-service basketball hoop sales and installation company specializing in getting kids to play outside more. They install unique custom home driveway basketball courts to include 1/2 court stencils with a free throw line and 3-point line. Their uniqueness lies in their ability to paint it in any color and put either your child's team logo or one of hundreds of college logos in the center of the key. Their matching basketball pole pads tie the entire court together for an awesome family experience.
###