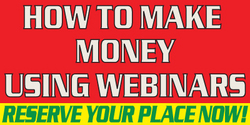 Webinars Convert 10 Times Better Than Web Sales Pages!
(PRWEB) March 18, 2011
Webinars are becoming one of the most powerful monetisation strategies for internet marketers. Planet Internet Marketing Ltd, provider of cutting edge and powerfully effective monetisation strategies for internet marketers, entrepreneurs, SMEs and 'blue-chip' companies, announced today that it will host a free webinar with a leading webinar expert Dean Hunt designed to help internet marketers enhance their revenue and maximise their profitability.
The webinar, entitled "Discover 7 Seven Secrets to Making Money with Webinars", will be held on Wednesday, March 30 at 8pm GMT.
About the Webinar:

The webinar will cover the secrets about hosting high-converting webinars which are up to 10 times more effective at converting prospects into buyers than website sales pages and produce a higher conversion than any other form of internet marketing. Attendees will walk away with an actionable approach to hosting successful webinars as well as advice for monetising this powerful strategy.
Key topics to be covered in the webinar include: Seven secrets to making money with webinars; strategic tips and advice for leveraging the power of webinars to dramatically increase the sales regardless of the product or service being sold; and the secrets, business expertise and know-how to unlock the real potential of any online business.
Resources:
Register for the webinar
gotomeeting.com/register/181623238
###