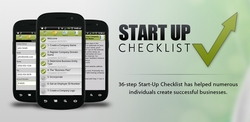 Chesapeake, VA (PRWEB) March 21, 2011
The 36-step Start Up Checklist app was designed to help individuals create a business and take advantage of the $80 Billion a year the United States government spends on small businesses.
"Following the success of our government contracting company, we created the Start Up Checklist to help other entrepreneurs break into the government market space," said Rob Hegedus, President and Chief Executive Officer of Entrepreneur Outfitters.
"With its current budgetary constraints, focus on more efficient expenditure of resources, and increase in small business set-aside funding, now is a good time for small businesses to start selling to the largest customer in the world, the Unites States government. We created the Start Up Checklist app to de-mystify this process and, more importantly, make it available to a larger audience." said Mr. Hegedus.
Originally available only in print for about $150, the app is offered at $7.99.
Entrepreneur Outfitters has recently invested in and helped individuals create businesses in a diverse set of industries, to include: renewable energy (wind farm development), government contracting, conference planning, information technology, and food services. Its proposal support services are reserved almost exclusively for small businesses. Huge believers in entrepreneurialism, 10% of all Start Up Checklist proceeds will be set aside to provide interest-free micro-loans to aspiring entrepreneurs around the globe.
To learn more about Entrepreneur Outfitters, visit their site at http://www.eoventurepartners.com.
###