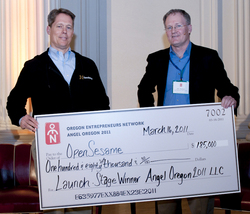 We're gratified to receive industry wide recognition for the excellence we have achieved with our elearning marketplace
Portland, OR (PRWEB) March 17, 2011
OpenSesame (http://www.OpenSesame.com ), a Portland-based elearning startup, today announced it has been named the winner of a $185,000 investment prize from the Oregon Entrepreneurs Network (OEN) Angel Oregon Conference.
OpenSesame was selected from a field of nearly 40 competing companies based throughout Oregon and Southwest Washington. The selection process involved due diligence, research and debate among the more than 30 angel investors who provide the majority of the competition's investment award of $210,000. Angel investors participating in the OEN's Angel Oregon investment prize selected the top two companies to receive investment awards -- $185,000 for OpenSesame, which was named the winning Launch Stage company and $25,000 for Soothie Suckers, the winning Concept Stage company.
"We're gratified to receive industry wide recognition for the excellence we have achieved with our elearning marketplace," said Don Spear, OpenSesame Founder and CEO. "Companies worldwide spend more than $7B a year on off-the-shelf elearning content. We're solving their problems by making it easy to find, research, select, purchase, and use elearning content in minutes instead of months."
OpenSesame is a fast-growing online marketplace for buying and selling off-the-shelf elearning content. eLearning sellers from all over the world can upload their courses to the OpenSesame marketplace, set prices and sell their courses to new customers. eLearning buyers shop in the OpenSesame marketplace to access the broadest and freshest selection of elearning content from a worldwide set of publishers.
"This is a great day not only for our company, but for the Oregon tech community," said OpenSesame Founder, SVP & General Manager Josh Blank. "The excellent group of 2011 Angel Oregon entrants demonstrates that Oregon entrepreneurs are working hard to develop new companies, new ideas and new investment opportunities in our state."
Each year, the Oregon Entrepreneurs Network organizes the Angel Oregon conference, one of the premier angel investment competitions in the United States, in order to foster the growth of a vibrant entrepreneurial community in Oregon. Oregon-based startup teams are invited to submit their businesses for potential funding from OEN members. Participating OEN angel investors evaluate the slate of potential investments at the concept and launch stages, culminating in a day-long presentation session, after which the investors vote on a winner in each class to receive an equity investment.
"Through the investors' rigorous due diligence and screening process, OpenSesame clearly emerged as a great idea being implemented by a talented and experienced management team," said OEN Executive Director Linda Weston. "They're just one of the great businesses investing in the Oregon startup community."
"Since we launched in November, we've been overwhelmed by the positive response from elearning buyers and sellers," said OpenSesame Founder and VP of Business/Community Development Tom Turnbull. "They instantly understand our value proposition and how we can enable them to use elearning resources to invest in their workforce and keep their employees up to date efficiently."
OpenSesame has a strong management team with a track record of successful Oregon-based entrepreneurship, as well as 10 years of experience in the elearning industry. Among them, the OpenSesame founders have launched nine businesses, two of which have had IPOs.
About OpenSesame
Based in Portland, Oregon, OpenSesame is an open marketplace for elearning that connects elearning buyers and sellers. Buyers browse thousands of courses in a wide variety of subjects from workplace safety to business skills– all compatible with any Learning Management System. For more information, visit http://www.opensesame.com or follow @OpenSesameNow on Twitter.
About Oregon Entrepreneurs Network
Founded in 1991, celebrating 20 years of service to entrepreneurs, the Oregon Entrepreneurs Network (OEN) is a 501c3 non-profit corporation and the largest entrepreneur assistance organization in Oregon and Southwest Washington. OEN fosters the flow of entrepreneurial ideas, services, and capital to entrepreneurs and helps connect emerging Northwest businesses to growth-stimulating expertise and valuable resources.
OEN is a people-oriented network that helps cultivate, nurture and develop emerging businesses and entrepreneurs. Our network of members and breadth of services, offers business education, access to capital networks, support and contacts who can mentor and nurture startup companies' growth and development. OEN also helps small and mid-sized companies develop and implement strategies for community involvement that jointly meet the goals of the company, the passions of the employees and the needs of the community via its program, EFNW. For more information on OEN and its programs visit http://www.oen.org.
###