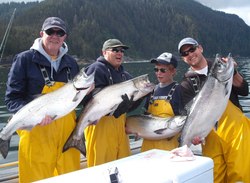 For the novice angler to grizzled old salts, here's a piece of advice. Put away your ego, forget about your past fishing experiences and listen to your guide, following his instructions to a tee, to get on to big fish. Peter Ottesen
Ketchikan, AK (PRWEB) March 19, 2011
Waterfall Resort, a historic former cannery turned upscale, world-class saltwater sport fishing resort is located on the west coast of Prince of Wales Island in Southeast Alaska's famous Inside Passage. Waterfall attracts anglers of all skill levels for staggering numbers of trophy-size King Salmon, Coho and Halibut and offers a Fly-Free to Alaska promotion when a guest books the all-inclusive 3-night / 4-day sport fishing package on selected dates.
"Celebrating 27 years, Waterfall's $100,000 King of Kings Salmon Tournament awards over 29 prizes for which guests vie for throughout the summer. From a Ford Truck to an international Princess Cruise for two, and gift certificates from Cabela's, the annual Tournament is a Waterfall tradition and favorite!
The 3-night/4-day Waterfall Package includes: round-trip floatplane, accommodations, meals, guided fishing, fishing gear, rain gear, and fish processing.
Waterfall Resort offers some of the best salmon and halibut sport fishing in the world. In the clear, cool waters surrounding Prince of Wales Island, rich tides prime the deep waters with millions of bait fish that attract annual returns of trophy-size salmon, halibut, red snapper, and ling cod. These natural phenomena first made Waterfall one of the most productive salmon canneries in Alaska.
Today, the resort attracts anglers of all skill levels for legendary sport fishing and Alaskan adventure. Waterfall's guides, among the most experienced in Alaska, are certified, licensed, recruited from across the nation and return each year to helm cruisers that fish 4 guests per boat.
"For the novice angler to grizzled old salts, here's a piece of advice. Put away your ego, forget about your past fishing experiences and listen to your guide, following his instructions to a tee" suggests Peter Ottesen, Outdoor writer
At Waterfall Resort, where Chinook salmon is "king," it takes a special technique to hook and net the ultimate prize. Catching a salmon requires mooching with a plug herring. While the boat drifts you are asked to lower the bait slowly, so it doesn't wrap around itself. On the way down to depth prescribed by your guide, be alert to the slightest bite or hesitation, or a complete stop. If this happens, reel back about 10 turns on your Shimano level-wind and you'll quickly learn if a salmon is present.
Never ever set the hook. Reel at a steady pace and allow the G. Loomis Rod to load up and nearly bend into the water, as if it were a witching stick. Only then do you raise the rod as the salmon bolts to the ocean depths. Do not jerk the rod or horse the fish. Salmon have soft mouths. Allow it to take line, don't cinch the drag or thumb the reel, and let the rod do the work. It's an epic battle you can win, if you follow instructions.
With a fleet of 27 state-of-the-art aluminum North River / Almar cabin cruisers piloted by Coast-guard certified guides, Waterfall guests fish from the largest private fleet of charter boats in Alaska.
After an exhilarating day on the water, the fish are taken to the seafood processing area where experienced cutters fillet (according to each guest's request), vacuum-package, and flash freeze the catch. The fish are then placed in special wet-lock boxes for the return trip home.
The Resort's 4-star meals and 4-star accommodations welcome guests while the one-to-one guest-to-staff ratio allows staff to provide attention to detail for each visitor's requests and comfort.
Easy-to-get-to, Waterfall Resort is 600 miles north of Seattle and 63 air miles west of Ketchikan via a scenic 45-minute floatplane trip which is one of the most memorable highlights of this Alaska experience.
Upon arrival at Waterfall, guests board their assigned cruisers. The legendary Waterfall sport fishing adventure is underway within moments of landing.
Waterfall Resort is the only remote resort in Alaska to have an on-site airline agent. The Alaska Airlines dockside agents facilitate a "hassle-free" departure day. Luggage and fish boxes are checked in at the Resort and then transferred directly to the guest's flight leaving Ketchikan.
*Special Offer:
Fly Free to Ketchikan, Alaska from U.S. cities only.
*Offer not valid with any other offers or discounts and good on selected dates based upon availability. Restrictions apply, contact Waterfall Resort for details.
###