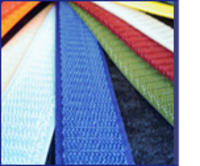 Holbrook, MA (PRWEB) March 21, 2011
Buyhookandloop.com offers an exciting alternative to Velcro Brand products. The Hook and Loop Fasteners available at Buyhookandloop.com provide a wide variety of fastening solutions. The website is easy to navigate and purchasing is fast and simple. Products include: Adhesive Back Hook and Loop and Adhesive Dots, Re-useable Cable and Bundling Wraps, Sew On Hook and Loop, Display Loop Fabric and much more. Pricing is extremely competitive and quality is of the highest standard.
Visitors to Buyhookandloop.com will learn the history of the Velcro Brand -- how a gentleman walking his dog found that the burrs attaching to his wool pants were made up of hundreds of tiny hooks that engaged with the loops that make up wool and many other fabrics. He sold the patent for a fraction of its worth.
Free evaluation samples and bulk discount pricing are available upon request.
###