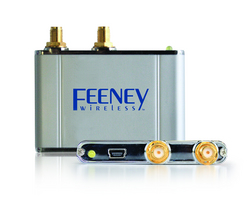 "This new partnership with Feeney creates another opportunity for Sprint - to quickly develop and commercialize advanced solutions in a rapidly expanding business environment" said Wayne Ward, vice president of Emerging Solutions, Sprint. "Partnering wit
Eugene, OR (PRWEB) March 18, 2011
Feeney Wireless, a leading provider of wireless mobile solutions and technologies, announced today the creation of a new strategic partnership with Sprint aimed at delivering advanced mobile and machine-to-machine (M2M) solutions to the marketplace. The relationship with Feeney Wireless, designated as an Emerging Solutions Partner (ESP), will focus on product innovation, speed-to-market, and rapid commercialization of new products within the rapidly growing M2M and embedded solutions market.
Feeney Wireless will accelerate the introduction of its products and solutions such as mobile vehicle connectivity systems for public safety and embedded connectivity kits. Feeney's ability to engineer, deliver and support comprehensive solutions drawing across its ecosystem of hardware, software and service partners provides a clear value to Sprint customers.
Under the ESP relationship, Feeney Wireless will provide Sprint with an array of engineering and product development capabilities, including:

Solutions - Complete wireless systems designed for simple deployment and management
Rapid Innovation – Accelerated speed to market for new products, technologies and solutions in the M2M and embedded solutions market
Innovation – Product development and fabrication capabilities for hardware solutions
Eco-System Development – Strong partnerships across leading hardware, software and service providers in the wireless and M2M space
Support – Provides a single source for managed care and support across all solutions
"This new partnership with Feeney creates another opportunity for Sprint - to quickly develop and commercialize advanced solutions in a rapidly expanding business environment" said Wayne Ward, vice president of Emerging Solutions, Sprint. "Partnering with Feeney will enable Sprint to be more agile and responsive to our ever growing customer needs."
"Component technologies, hardware, software, and networking capabilities and are all evolving at a breathtaking rate, which creates a highly-fragmented value chain." said Bob Ralston, president of Feeney Wireless. "Our relationship with Sprint to develop certified solutions solves this challenge by creating a single source for services and engineered solutions that are dependable and scalable, with the focus on delivering value to the customer."
Embedded Connectivity Kit for M2M Applications
Feeney is releasing a new line of connectivity devices for M2M applications under the brand name Skyus™. The Skyus platform accelerates time-to-market for developing connected devices and dramatically simplifies integration efforts. The product allows developers to rapidly enable wireless connectivity on their devices, allowing for a smoother and quicker transition to market. Built to work specifically with Sprint 3G or WiMAX 4G Networks, the Skyus product line of rugged, low-cost devices are designed for embedded systems.
Feeney Wireless serves the needs of municipalities, corporations and federal agencies across the United States. Thousands of customers depend on Feeney as a preeminent provider of wireless technology equipment and mobile data solutions for their mobile and M2M operations. As a full service integrator and product development company, Feeney Wireless reduces complexity and risk by engineering certified solutions backed by a comprehensive solution delivery, managed services and support model.
###