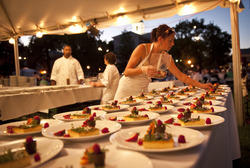 One of those most enjoyable wine weekends in the world.
Mcminnville, OR (PRWEB) March 19, 2011
In honor of the 25th Anniversary, Oregon's International Pinot Noir Celebration (IPNC) will reunite world-renowned winemakers, Northwest chefs, esteemed media, wine lovers and epicures from the first event in 1987 and the following 23 Celebrations. Guests will join more than 70 premier Pinot noir producers from Alsace, Australia, Austria, Burgundy, California, Canada, Champagne, Italy, New Zealand, Oregon and Washington in McMinnville, Oregon, for three days of exploring prized Pinots, savoring unforgettable meals, and learning and celebrating with luminaries of the food and wine world. Joshua Wesson, wine expert and founder of the innovative wine retail chain Best Cellars, will serve as Keynote Speaker.
The IPNC's highly anticipated Grand Seminar will feature pioneer winemakers David Adelsheim of Oregon's Adelsheim Vineyards; Jim Clendenen of California's Au Bon Climat Winery; Véronique Drouhin of Burgundy's Maison Joseph Drouhin and Oregon's Domaine Drouhin; Dominique Lafon of Burgundy's Domaine des Comtes Lafon and Oregon's Evening Land Vineyards; and Larry McKenna of New Zealand's Escarpment Vineyards. Moderator Eric Asimov, wine critic for The New York Times, will lead guests and winemakers through a tasting and discussion of ten wines, exploring the influence that decades of cross-pollination and the exchange of ideas between peers and regions have had on the evolution of Pinot noir.
Praised as a showcase for the Northwest's famed farm-to-table cuisine, the IPNC will host 50 guest chefs from the region's most revered restaurants. For Friday's Grand Dinner, four leading chefs and their prodigies will craft a Burgundian-inspired menu showcasing the finest local ingredients. Chef teams include Vitaly Paley (Paley's Place, Portland) and Ben Bettinger (Beaker & Flask, Portland), Robert Reynolds (Robert Reynolds Chefs Studio, Portland) and John Taboada (Navarre, Portland), Leif Benson (2010 Oregon Chef of the Year) and Jason Stoller Smith (Timberline Lodge, Mt. Hood), and Philippe Boulot (Multnomah Athletic Club, Portland), Phil Oswalt (Multnomah Athletic Club, Portland) and Michael Stanton (The Heathman Restaurant & Bar, Portland). Saturday night's Northwest Salmon Bake will feature chefs Andrew Biggs (View Point Inn, Columbia Gorge), Benjamin Dyer, Jason Owens and David Kreifels (Laurelhurst Market, Portland) and Jason Stoller Smith (Timberline Lodge, Mt. Hood).
In addition to world-class wines and memorable meals, guests will indulge in an exciting array of activities including a:

blind tasting seminar with featured winemakers and esteemed media guests
tasting of Pinot noir rosés and locally crafted charcuterie
chef panel and tasting with James Beard Award winners Greg Higgins and Cory Schreiber, and James Beard nominee Scott Dolich
engaging discussion with authors Jordan Mackay and Rajat Parr, and a panel of iconic U.S. sommeliers
book fair and author signing featuring 15 authors of recent food and wine releases
intimate vineyard tour and winery lunch at one of 14 Willamette Valley winery destinations
Along with the speakers and chefs, it is the relaxing and festive atmosphere that sets the IPNC apart from all other wine and food events. Whether tasting Grand Cru Burgundy or walking through Oregon vineyards with the grower who planted them, guests find themselves unwinding in picturesque Oregon wine country for what wine legend Jancis Robinson described as "one of the most enjoyable wine weekends in the world."
Tickets for the full event, held on Linfield College campus in McMinnville, Oregon on July 29 – 31, include exclusive access to all seminars, tastings, tours and activities, as well as all meals over two days and the Sunday Sparkling Brunch Finale. Tickets for the full weekend are $975 and only 100 tickets remain. Tickets to the Sunday Passport to Pinot, a mini version of the full weekend, are $150. All tickets are sold on a first-come, first-served basis. To purchase tickets or for more details, contact the IPNC at 800/775-IPNC, info(at)ipnc(dot)org, or http://www.ipnc.org.
# # #