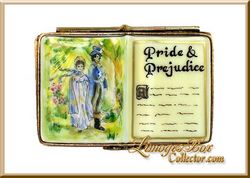 This magnificent Pride & Prejudice collectible is a MUST-HAVE for any Jane Austen fan, offered exclusively at LimogesBoxCollector.com.
Los Angeles, CA (PRWEB) March 21, 2011
LimogesBoxCollector.com is proud to announce the arrival of Spring 2011 Collection by Beauchamp Limoges. The Collection includes a new and exclusive Pride & Prejudice open book Limoges box, featuring a hand-painted image of Mr. Darcy and Elizabeth Bennet taking a walk in the gardens of Pemberley. Inside, is the famous quote from the book "A single man of good fortune must be in want of a wife."
Jane Austen fans will love this exclusive collectible Limoges as well as a book shelf Limoges with the Jane Austen and Emily Bronte titles, offered exclusively by LimogesBoxCollector.com.
The new 2011 Beauchamp Limoges Spring Collection offers gift-shoppers and Limoges collectors an extensive selection of the highest quality French Limoges to choose from including Easter and graduation Limoges boxes. This collection also features a magnificent Peacock Limoges which will crown any Limoges collection!
Collectors and gift shoppers will enjoy the artistry and exquisite styles of Beauchamp Limoges' hand-painted porcelain boxes. Each Limoges box is made entirely by hand, from pouring the porcelain paste into the mold, firing, hand-painting and metal hinges, each and every Limoges box is crafted by Beauchamp's select master artists in Limoges, France.
LimogesBoxCollector.com offers competitive pricing for this magnificent collection. Shoppers can find a wide variety of Limoges styles to suit any occasion and every person on their list.
LimogesBoxCollector.com is the exclusive authorized dealer and distributor of Beauchamp Limoges, offering a magnificent collection of high-end, hand-painted French Limoges boxes. LimogesBoxCollector.com is proud to offer the largest collection of retired and RARE Walt Disney Limoges boxes made by Artoria Limoges.
LimogesBoxCollector.com is also offering the Beauchamp Limoges collection wholesale to the trade. Jewelry stores, department stores, high-end gift shops and boutiques, just to name a few, can now offer Beauchamp Limoges boxes to their customers. Also businesses can order quantities of personalized Limoges boxes for special occasions, events and corporate gifts.
Collectors always look for new styles and designs. Beauchamp Limoges offers a very large collection of Limoges boxes and continually adds new and original designs in various themes. Each Limoges box offered by Beauchamp is specially commissioned and crafted by master artists in Limoges, France. Collectors can find Limoges boxes in exquisite designs for every occasion, such as Birthday, New Baby, Christmas and other Holidays. Animals, Beach and Tropics, Gardening, Professions, Sewing, Buildings and Cottages, Sports, Travel are only a few categories to mention. Limoges boxes by Beauchamp Limoges are sure to capture the fancy and delight of any Limoges collector or enthusiast.
Every Beauchamp Limoges box is highly superior in quality and workmanship and bears the distinctive "Beauchamp Limoges" backstamp as well as the designation "Limoges, France" as the guarantee of authenticity and the origin of manufacture. The phrase "Peint Main" indicates that the Limoges box is painted by hand. Some artists include their initials or name in the markings. Some of the Beauchamp Limoges boxes are created in a limited edition; and, therefore, the number will also be included in the insignia. Each piece is exquisitely hand-painted with great detailing; many of the styles have elaborate paintings inside and/or contain a beautiful accessory piece.
LimogesBoxCollector.com is owned by Grand Dezign, Inc., a direct importer of Limoges Boxes from France, offering the highest quality at the most competitive prices. All Limoges Boxes featured are offered at great savings below retail and specialty shops prices.
For more information, please contact:
Customer Relations Specialists
LimogesBoxCollector.com
310-391-4559
http:// http://www.limogesboxcollector.com
###