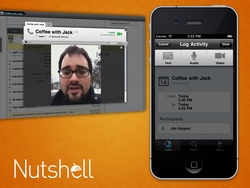 There's one universal in CRM: everyone hates logging activities.
Ann Arbor, MI (PRWEB) March 17, 2011
Today, Nutshell breaks new CRM ground by bringing audio and video logging to their native iPhone app. Now mobile users can simply speak and show their updates on meetings and activities.
"Video logging is the coolest thing we have done yet. We are really proud of it," said CEO Guy Suter. The latest version of Nutshell's iPhone app lets users decide how to log an activity. Users pick between a text, audio or video log. Text notes are added with the phone's traditional keyboard. For audio and video, the phone instantly changes into multimedia recording mode.
Suter admits, "There's one universal in CRM: everyone hates logging activities. Nutshell's video and audio logs are less painful and are even borderline fun!" Managers are constantly trying to demand proper logging. Outside sales reps struggle to use a laptop on spotty coffee shop Wifi connections to type up their notes. Nutshell lets users make these notes quickly on the walk back to the car.
Nutshell is innovating how users interact with mobile devices, not just downscaling the web to a phone. "I didn't get an iPhone for typing. Our phones have cameras and microphones that are perfect for making quick updates after a meeting," said Suter.
Beyond video logging, Nutshell's iPhone app is capable of rapidly searching through all contacts, leads, and accounts, viewing full email conversation history on a lead, and scheduling new activities which can be synchronized to Google Calendar and Microsoft Exchange.
Nutshell is a cloud CRM solution with web access and an iPhone app. The latest version of the iPhone app is available in the App Store now, and Nutshell plans to expand its mobile experience to Android devices this year.
Nutshell CRM is available on an instant 30-day free trial from http://www.nutshell.com with a simple, no credit card required, less-than-30-second signup. Plans start from just $49 monthly for up to 5 users and scale up to enterprise customers.
About Nutshell:
Nutshell, founded in 2009, builds modern sales software for business. Nutshell's focus is on creating a simple user experience complete with powerful process management and superb mobile support. Nutshell launched from the Future of Web Design conference in New York City, and is based in Ann Arbor, Michigan.
For more information, visit http://www.nutshell.com/ or contact info (at) nutshell (dot) com.
###