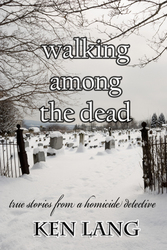 ...a fascinating inside perspective on a busy and prestigious homicide unit.
North East, MD (PRWEB) March 19, 2011
Ken Lang, former homicide detective, now author, releases his first of a series of ebooks; Walking Among the Dead, on Barnes&Noble and Amazon.
There are no scripts, television cameras, or high paid actors that can capture the real life essence of a homicide detective like Walking Among the Dead: True Crime Stories From a Homicide Detective. Experience murder and death investigations first hand as former homicide detective Ken Lang takes you from the crime scene into the interrogation room of some of the most intriguing true crime cases ever. As he unravels these mysteries, experience the drama and adrenaline rush that most homicide detectives thrive on.
Unlike most other true crime books that simply regurgitate the facts of a particular murder, Walking Among the Dead takes the reader into the homicide office as the squad of detectives actively investigates a variety of death scenes. Ken's new and fresh writing approach is captivating true crime readers everywhere. Here are just a few quotes:
"Ken pulls you right into the heart of the crime scene--and doesn't let go! His descriptions of the characters, the setting, and the action fire your imagination and keep you riveted, wanting to see how it all plays out. Ken's own homicide investigations and interaction with law enforcement figures give the reader a sense of 'this is the real thing.'" -- Myrle Bowe, Freelance Writer
"Ken's flowing writing style combines with his knack for suspense to keep you wanting more!" --- Sue Payne, Freelance Writer
"Enter the world of Police Officer Lang and discover what it is like to walk into the dark side of mysterious deaths. Get an insiders look into this different world where the mysteries of lives lost are uncovered piece by piece. A sure page turner that will keep your interest long into the evening hours after you have closed the book and turned off the lights - if you can." -- Cynthia M. Kelly, author of The Not So Perfect Blend
"...it was like I was right there in the scene!" -- Linda (Elkton, MD)
"...a fascinating inside perspective on a busy and prestigious homicide unit." -- Stephen (New Castle, DE)
About the Author: Ken Lang is a 22 year law enforcement veteran from the State of Maryland. He has served the last 15 years as a detective in the Criminal Investigation Division (CID) Section where Sex Crimes, Robbery, and Homicide investigations have become his forte. A decorated officer, Ken has been awarded the William J. Simms Memorial Award, was named 1997 Officer of the Year by the Optimist Club, has been issued three unit citations, a Chief's Award, and was the recipient of 14 letters of appreciation for outstanding service as recognized by distinguished members of government and civilians alike.
In addition to his current investigative assignment, Ken is also an active Forensic Artist, providing Maryland police agencies with composite sketches, post-mortem/age-enhancement drawings, and skull reconstructions in a variety of on-going investigations.
Ken currently resides in North East, Maryland with his wife, Michele, and three children.
# # #