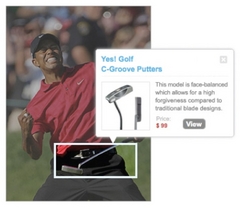 We think image monetization will become a standard in the future just like text ads are today.
San Francisco, CA (PRWEB) March 30, 2011
The new service Taggify.net has just released its beta, and aims to use the images content on different websites to place contextual products on them.
The amount of images on the internet is increasing exponentially with smartphones and digital cameras, having today over 3 trillion estimated pictures on the web. This space still remains largely not monetized.
Most websites generate income by placing advertising on their sites. This is mostly done either by banners, or text ads (such as Google Adsense). However, there hasn't been much innovation in the area over the last few years.
Taggify tackles the problem by adding contextual products on the images. If a user is reading a news of a football team for example, and there is a picture of a player kicking the ball, the mouse can be scrolled over the shirt on the picture, displaying a tag with further information about it, -similar to what a facebook tag would look like, but applied to products-. Once the product is clicked it can be bought directly online. The system offers both a manual tagging system as well as an automatic system which generates the ads based on contextual information of the website.
Gustavo Bessone Co-Founder of Taggify.net said "We think image monetization will became a standard in the future just like text ads are today, and we want Taggify to be the primary player in it. Also, our system doesn't require webmasters to remove any of the other monetization tools they are using, such as Adsense or display networks, so its really easy to try out".
Webmasters can apply to the beta version directly from http://www.taggify.net. By just installing a snippet of code on their site they can start monetizing their images right away.
###