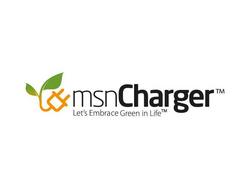 "Let's Embrace Green in Life™"
Dallas, Texas (PRWEB) March 19, 2011
After the successful announcement and great response to msnBattery™, OnTrion™ introduces its yet another trademark product, msnCharger™. These are high quality USB chargers that are slim and useful. These chargers are compatible with various ranges of mobile phones that are manufactured by diverse brands such as Nokia, Sony Ericsson, Samsung, LG, Motorola, BlackBerry, etc.
OnTrion™ is a leading manufacturer and distributor of cell phone batteries for the top manufacturers. Now, with its trademarked USB chargers, it aims to capture the market where buyers can find high quality battery and chargers. Being a part of Blutron® Group Company, OnTrion™ already enjoys a respect in the market and its idea to enter into the field of wholesale distribution of mobile phone chargers has got good potential.
Their first trademarked product msnBattery™ is not yet available in the market as they will disclose this product range at CTIA show (http://www.ctiawireless.com) on April 24 2011 at Orlando. It is expected that, during the same event, OnTrion™ will reveal about its high quality USB chargers as well. They are welcoming the interested distributors to visit the event and judge the potential of the products.
"Let's Embrace Green in Life™" is what OnTrion™ has been following with its products for several years. The company shows its responsibility towards safer environment by introducing eco-friendly range of products in the form of mobile phone batteries and accessories. Their own trademarked chargers are also created with recycled materials and will utilize minimum energy during usage. The distributors who are interested to consider such promising line of products can visit the CTIA for more details. OnTrion™ is presently looking for distributors in USA, Mexico, Canada, Caribbean and other South American areas.
OnTrion™ even has plans to offer more value of money to the buyers of its trademarked msnCharger™ chargers. The company has initiated a package where the buyers can get four exclusive products at competitive rates. It is a 4 in 1 package for the slim high quality USB chargers that include USB Home Charger, USB Car Charger, USB Data Cable of 4 feet, and 3.5mm Aux Cable of 3 feet.
These are slim range of chargers that can save space requirements of the users. Having a USB charger is convenient because one can charge the devices at home, car, office or anywhere else where they can access USB ports.
"We have a great experience in the journey of introducing environment friendly range of mobile phone batteries and we hope that our new USB chargers will be able to meet the similar standards. It is our aim to make mobile phone usage convenient for the end-users with our "green" friendlier products," says a spokesperson of OnTrion™.
About the Company- OnTrion™ is a part of Blutron® Group Company and it is successfully manufacturing and distributing high quality cell phone batteries since nine years. It has a wide range of consumers and distributors across the nation.
Contact: Katy McGlynn
Address: Address: 709, Lingo Dr, Suite # 111,
Richardson, TX-75081
Phone # 972-497-9933
# # #