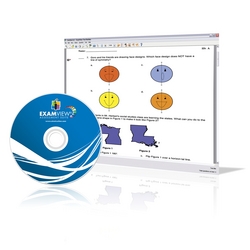 Denton, TX (PRWEB) March 21, 2011
eInstruction, a premier global provider of interactive teaching and learning technology, today announced the release of a new version of ExamView® Assessment Suite, the most frequently used assessment software in the country, which is included with more than 8,000 textbooks from more than 65 leading publishers. With new integrations with leading learning management systems, expanded operating system compatibility and enhanced features for use with eInstruction's CPS™ student response pads, ExamView® Assessment Suite version 7.50 enables educators to more easily create, administer and manage both formative and summative assessments.
Research shows that the ability to frequently assess, track and analyze student comprehension is essential to students' success. With ExamView® Assessment Suite 7.50, teachers can create assessments and quizzes, collect results, and generate comprehensive reports and study guides in minutes. The software also allows students to take tests and view study guides over a school's network.
Enhancements to the new software version include:

Integration with Angel 7.4 Learning Management Suite and Blackboard Learn 9.0 to publish question banks and export assignment results.
Compatibility with Windows 7 and Mac OS 10.6 (Snow Leopard) operating systems.
A direct link with CPS™ student response pads, enabling a teacher to ask questions and collect responses without ever leaving ExamView software.
Updated user interface.
"We know that more than 1 million teachers depend on ExamView® for their assessment needs, and these enhancements are just what they have been asking us for," said Eileen Shihadeh-Shald, Vice President of Worldwide Marketing at eInstruction. "This upgrade shows eInstruction's commitment to providing educators the features and compatibility for efficient exam delivery and advanced reporting they need to be successful."
When ExamView® Assessment Suite 7.50 is used with eInstruction's ExamView® Learning Series Rev 8, educators can access a collection of unique, high-quality questions specifically aligned to 39 states' standards, Common Core State Standards and curriculum topics.
eInstruction's CPS™ student response systems also integrates with ExamView® Assessment Suite 7.50, allowing educators to ask questions and collect responses, directly from ExamView® Assessment Suite 7.50. CPS™ is the only student response system designed to be completely and automatically compatible with ExamView®, offering automatic import of questions and answers, the sharpest image quality and flawless tracking capabilities.
ExamView® Assessment Suite 7.50 costs $99 USD for a single classroom, and $799 USD for an entire building license. If a class or building currently has a previous version of ExamView® Assessment Suite, an upgrade can be purchased for $79 USD or $639 USD, respectively. A free 30-day trial of ExamView® Assessment Suite 7.50 is also available on the eInstruction website.
About eInstruction™
eInstruction is a leading education technology company dedicated to providing interactive teaching and learning technology and services that help educators drive academic progress every day, and give administrators the ability to monitor, aggregate, and analyze student performance data. The company offers educators a family of software, student response systems, fixed interactive whiteboards, mobile interactive whiteboards, professional development, and content.
eInstruction's research-based solutions have been shown to increase student engagement and achievement while providing real-time feedback and performance data to educators and administrators. Millions of students, teachers, and professors use eInstruction® technology in 500,000 K-12 classrooms and more than 1,000 higher education institutions around the world. Available in more than 40 languages, eInstruction® technology is enhancing education in over 90 countries worldwide. eInstruction has offices in Denton, TX; Columbia, MD; Scottsdale, AZ; Cincinnati, OH; and Paris, France.
To learn more about eInstruction, please visit http://www.einstruction.com. For media inquiries, please contact Julie McKinney at Stanton Communications at (410) 727-6855 or jmckinney(at)stantoncomm(dot)com.
# # #