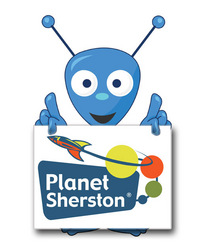 Sherston, Wiltshire, UK (PRWeb UK) March 21, 2011
Sherston Publishing is pleased to launch it's latest online product, Planet Sherston. The launch of Planet Sherston marks a new era in online teaching products from Sherston Publishing. Packed with high-quality online curriculum resources covering maths, English, science, humanities, ICT and Early Years, Planet Sherston delivers 24/7.
With comprehensive tracking and reporting tools, Planet Sherston allows teachers to easily monitor student progression and adjust assignments to meet specific needs/goals/learning styles.
View a video introduction on SchoolsTube
Why Planet Sherston?
Take a look at just some of the benefits:
For pupils:

Interactive games and activities to encourage and engage learners
Develops soft skills, such as logic and problem-solving
Access to Planet Sherston 24/7
Access to high quality topic-based video resources
For teachers:

One resource for whole class teaching and personalised learning saves teachers planning time
Extension activities for more able children
Focused activities for independent learning
Your classroom assistant with downloadable lesson plans and resources
Standards-based
Tracking and reporting tools to support pupil assessment
Topic-based learning
For schools:

One solution covers Maths, English, Science, Humanities, ICT and Early Years
Subscribe to specific subject areas for school-targeted curriculum strategies
Both teacher and learner-directed learning
Access to continually updated learning resources and tools
Support school-home link by allowing home access and reporting tools for parents
Attractive pricing
With current budgets in mind, Planet Sherston is keenly priced at only £799 annually for the full package. Special pricing is available for schools with less than 150 pupils.
For further information on Planet Sherston, including obtaining access to a trial subscription, please contact Reeza Awoodun, Group Marketing Director on 07810 878585 or r.awoodun(at)blieducation(dot)com.
Alternatively visit http://www.planetsherston.com.
Notes to the editor:
About Sherston
Now part of BLi Education, Sherston is one of the UK's leading providers of educational software, with content covering every part of the curriculum.
Its award winning outstanding reputation is built upon 25 years of providing schools with innovative, engaging products, with sound educational content. Sherston's broad portfolio includes a growing collection of online solutions, plus an extensive range of products that are VLE ready and CD-ROM deliverable.
Co-development partnerships with major education specialists, including BBC Active, BBC Motion Gallery, Eurotalk, LDA, Oxford University Press and Softease are testimony to the reputation of Sherston within the education market.
# # #