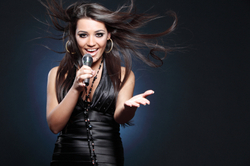 Naci Para Cantar, Victor Manuel Soberanis Company's new reality show, will showcase the best Latin American bilingual singing sensations in the United States. Naci Para Cantar ("Born to Sing") will premier on LATV on Sunday, March 27 at 7 p.m. PST.
Chicago, IL (PRWEB) March 23, 2011
The Victor Manuel Soberanis Company is proud to present Naci Para Cantar ("Born to Sing"). The reality show is a production of Encanto Production's Inc., a Victor Manuel Soberanis Company based in Chicago, Illinois. The reality show has been designed to identify and showcase the next great new Latin American singing star and will debut its pre-launch show on LATV Sunday, March 27, at 7 p.m. PST, 9 p.m. CDT and 10 p.m. EST.
Contestants will have the opportunity to sing acapella in English or Spanish on a national tour across the United States. Thousands of auditions will be held in the following cities:

Los Angeles
New York
Miami
Chicago
Houston
San Francisco
San Antonio
San Diego
McAllen
Tucson
Video auditions are also accepted. Finalists have been selected to be in the Reality Pre-Launch show hosted by Berenice Guzman, a Clear Channel radio personality and Nuestra Belleza, Latina finalist in 2009.
Launching
Naci Para Cantar will launch on July 24, 2011 and run through November 20, 2011. The 18 episodes will air each Sunday for one hour starting at 7 p.m. PST and 9 p.m. Central Time. Ten of the shows will be taped in the cities where auditions were held and the remaining 8 will be broadcast from Chicago. The final episode will be a two hour finale in which the winner of the competition is revealed.
Naci Para Cantar, Season 1, auditions in 2011, beginning with a tour visiting 10 cities across the United States:

Chicago July 14
Dallas July 21
San Antonio July 28
Houston August 4
San Francisco August 11
Los Angeles August 18
San Diego August 25
Denver September 1
Miami September 8
New York September 15
Participants must be over the age of 15 but there is no upper age limit. Contestants will sing acapella.
During Naci Para Cantar shows the judges will score and make their choices based on vocal abilities, body expressions, artistry, stage presentation, appearance, style and the personality of each contestant.
Telephone lines and text voting will open at beginning of each show. Viewers will be able to vote by text or by dialing a toll free telephone number to enter our automated voting system. Telephone and text lines will remain open for one hour after the end of the show so that you can make your choice and support your favorite singer.
Naci Para Cantar finalist winner will receive an album production with a major label company plus $100,000 in promotional prizes.
For more information about Victor Manuel Soberanis' new hit reality show, Naci Para Cantar, visit http://www.naciparacantar.com/ or call (312) 266-8200.
###