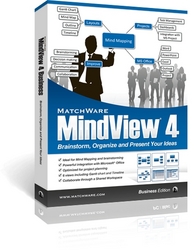 MindView keeps your information alive. Be it through advanced import/exports, polished Microsoft Office integration, or versatile viewing options, MatchWare lets you repurpose, recreate, and redistribute existing data."
Tampa, FL (PRWEB) March 21, 2011
MatchWare (http://www.matchware.com), the leading provider of professional mind mapping software, announced today that its MindView 4 Business Edition received PC Magazine's highest editorial honor, the Editors' Choice Award. The editors praised MindView 4 Business' industry-leading integration with Microsoft Word, PowerPoint, Excel, Outlook, and Project saying, "MindView keeps your information alive. Be it through advanced import/exports, polished Microsoft Office integration, or versatile viewing options, MatchWare lets you re-purpose, recreate, and redistribute existing data." The reviewers preferred MindView 4 Business' features over the competition and rated it a 4.5 out of 5.
According to the PC Magazine editors, "you can re-envision data with a right click… I can imagine using Outline for a project status meeting. Or perhaps Timeline for a conference with upper management: with the option to embed a Gantt chart, Timeline tailors to the most micro of managers. And then there are the pre-figured Status Reports – e.g. 'Who Does What?' – ideal for top-level management."
"This review of MindView 4 Business Edition confirms our position in the marketplace and solidifies that we are providing enterprise solutions for improving productivity, collaboration, and innovation in companies worldwide," said Ulrik Merrild, MatchWare CEO. "We are proud of this recognition and continually strive to listen to our customers' needs and exceed their expectations."
PC Magazine software analyst William Fenton concluded by noting, "An investment in MindView is an investment in your business: sure, you can pack your data and leave, but why bother? MindView 4 Business Edition wins the Editors' Choice award for two reasons: it demonstrates that information can grow with the demands of a project, and it acknowledges that there are other licenses in your life. If you think you might be interested, I'd encourage you to try the free demo."
Read the full review from PC Magazine: http://goo.gl/9ap18
About MindView
MatchWare MindView is professional mind mapping software that allows you to optimize brainstorming sessions and present ideas visually. MindView2s mind mapping capabilities provide an effective way to organize and develop ideas, outline reports, and streamline decision making. MindView's visual hierarchy and professionally designed export templates convert your mind map into a polished presentation with the click of a mouse. Brainstorm topics, storyboard presentations, enhance meeting discussions, and improve white board sessions. Attach pictures and videos, take notes or add hyperlinks – everything will be included in your export. For more information about MindView, visit matchware.com or follow us on Twitter and Facebook.
About MatchWare
MatchWare is a leading provider of multimedia, screen recording, and visual thinking software that enhances individuals' ability to create, visualize, manage, and distribute information. MatchWare's easy-to-use professional software empowers business, education, and government worldwide to produce and deliver dynamic multimedia content that will engage and inspire. A fast-growing company founded in 1992, MatchWare has its headquarters in Denmark with offices in the USA, United Kingdom, Germany, Sweden, and France. For more information on MatchWare, visit http://www.matchware.com.
# # #