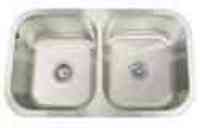 16 Gauge Stainless Steel Sinks Are 20% Stronger Than 18 Gauge
North Berwick, ME (PRWEB) March 20, 2011
plumbingandlightingfixtures.com (PLFixtures) has recently added Artisan Kitchen Sinks and Faucets to their web site. They have been recommending 16 Gauge sinks to their customers for years, because of there durability and long life. They feel that Artisan heavy duty kitchen sinks, with their high luster satin finish, are especially useful with new granite counter top installations (where a top of the line product is required). Artisan's line 16 gauge kitchen sinks offers the homeowner, contractor and commercial enterprises the option of a heavy duty, high quality undercabinet stainless steel kitchen sink at very competitive prices. A note to installers and granite contractors: we have DFX files available for most of the Artisan sinks.
With 12 models of rectangular and d-bowl double bowl kitchen sinks, including the best seller high-low AR3221-D108 and the AR3521-D97 to the double equal bowl AR3218-D1010 double bowl undermount kitchen sink you will find a configuration for every need. If a garbage disposer is going to be included in your project, the AR3121-D95 and the AR3121-D95R model offers a small right or left hand bowl for this purpose. The Artisan line also includes 6 single bowl undermounted sinks and 1 round model in the popular AR019-d8 model.
Some advantages of Artisan Manufacturing's 16 gauge sinks are:
16-Gauge sinks are 20% stronger than 18 gauge sinks
304 grade Stainless Steel
Sound deadening pads and/or coating
Remarkably stain and corrosion resistant
Limited Lifetime Warranty
Meets or exceeds the following standards:
ASME A112.19.3-2000, ASME A112.19.2-2008/CSA B45.1-08 or ASME A112.18.1-2005/CSA B125.1-05 and meet the requirements for AB1953 - January 1, 2010
In addition to Artisan Premium 16 gauge kitchen sinks PLFixtures their Artisan Kitchen Sink page PLFixtures is offering the Chef Pro line of Artisan sinks. These industrial quality, contemporary style sinks, feature zero radius corners and the modern look that are now favored in the new housing industry. The CPAZ3621-D1010 (double bowl kitchen sink) and CPAZ3621-D10 (single bowl ) are both apron front kitchen sinks in the farmhouse sink category.
If a standard 18 gauge sink fits your needs, the Artisan Manufacturing Manhattan 18-gauge sink is available. Both double and single bowl configurations are available, with the MH3218-D88, AR3218-D108 and the MH-2318-D8 single bowls being best sellers.
plumbingandlightingfixtures.com is a Certified Artisan Reseller Registration no. M161221E. Always buy from a Certified Artisan Reseller to assure you are getting genuine Artisan products and the accompanying Limited Lifetime Warranty.
Plumbingandlightingfixtures.com LLC
361 Beech Ridge Rd
North Berwick, ME 03906
866-376-9851
# # #