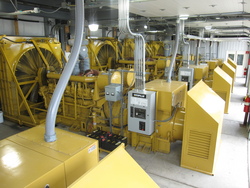 Disasters like the tsunami in Japan and Hurricane Katrina are a wakeup call to all business owners.
Chicago, IL (PRWEB) March 21, 2011
In the wake of a natural disaster that is being hailed as the worst crisis for Japan since World War II, millions of Japanese citizens are learning just how much havoc an unexpected event can wreak. Having backup generators in place could have averted some of the devastating after effects that resulted from the earthquake and tsunami. In particular, it could have insulated them from the widespread power outages. Aaron Equipment Company, a leading provider of new, used and reconditioned process equipment, including backup generators, is encouraging American businesses to learn from the situation in Japan by assessing their own disaster recovery plans.
Earlier this week, the Bloomberg news service reported that millions in Japan were still without power five full days after a crippling earthquake and tsunami rocked the city of Tokyo. The official count of electrical outages was "about 1.3 million households." To make matters worse, in an effort to save electricity, on March 14, Tokyo Electric announced that it would be starting "scheduled power outages in parts of the greater Tokyo area." Needless to say, the economy in the Japanese nation is at a virtual standstill.
That same day, the Air Self-Defense Forces prepared for the worst at a nuclear power plant in the north of Tokyo by transporting generators there. As the world watches, they can only hope that these after-the-fact initiatives don't prove to be a case of too little too late. They can also take heed from Japan's plight and arm themselves with a backup generator now – before such a calamity strikes closer to home.
"Disasters like the tsunami in Japan and Hurricane Katrina are a wakeup call to all business owners. They can lead to extended periods of time without utility power that knock out a company for days, even weeks," explains Aaron Equipment Company spokesperson Patrick Paden. "But even everyday events like thunderstorms, unusual weather, brownouts and blackouts can wreak devastation on a business's productivity. Having an emergency / stand-by / back-up power generator set installed can keep a company running business as usual under even the most unusual of circumstances. A generator set can run an entire facility as well as its servers, computers, phone systems, lights, air conditioners, machinery and all its electrical devices."
Business owners who are taking a second look at their own disaster readiness in light of the situation in Japan can see all of the used generators, new generators and automatic transfer switches Aaron Equipment Company has to offer online at http://www.aaronequipment.com/UsedEquipment/Generators.html. For more information on the best generator to meet a particular business need, contact Patrick Paden at (630) 350-2200.
# # #