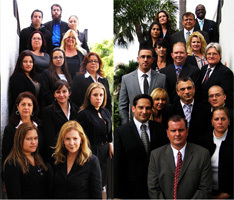 This strategy is paying off with thousands of families affordably staying in their homes because of Amerihope Alliance's work.
Fort Lauderdale, FL (PRWEB) March 19, 2011
Amerihope Alliance Legal Services, LLC celebrates another victory for struggling Florida homeowners in completing its 3000th successful loan modification through foreclosure defense and conciliation.
Gregory Nordt, principle and lead attorney at Amerihope Alliance, attributes the firm's unprecedented loan restructuring success "to the diligence of our legal team keeping on top of lenders' ever-changing criteria, knowledge of the legal foreclosure defense process and innovative strategies to get homeowners modifications that are in their best interest through conciliation and mediation processes. We use every available tool to our advantage and leave nothing to chance when fighting to save a home." This strategy is paying off with thousands of families affordably staying in their homes because of Amerihope Alliance's work.
In recent weeks, much was said about Florida foreclosure mill fraud and there has always been talk of loan modification and foreclosure rescue scams. Nordt questions, "Where are the articles, the features, the dialogue about those truly advocating on behalf of homeowners facing foreclosure?" With increasing foreclosures, rising bank fraud, and the apparent failure of loan modification programs now is a great time to start applauding law firms like Amerihope Alliance and attorneys like Nordt.
Since Florida rolled out its foreclosure mediation program specifically designed to "clear cases out inventory," only 6% of foreclosure mediation sessions have resulted in a favorable outcome for the homeowner. Mediation is not set up to help the homeowner and most result in foreclosure. Without experienced legal representation, mediation is little more than a fast track to eviction.
Amerihope Alliance has won battles for Florida homeowners facing foreclosure against the most non-cooperative lenders. Amerihope Alliance's 3000th successful modification came against OneWest Bank (formerly Indymac). In this case, a family keeps their home and can now afford their mortgage payments. Amerihope Alliance negotiated a substantial rate reduction to a fixed 4.38% for the life of the loan and obtained a principle reduction of $50,363.32. This family's monthly mortgage payment was reduced by almost 50% – dropping from $1,544.00 to $878.62. Amerihope Alliance showcases hundreds of examples like this on their website, http://www.amerihopealliance.com, so that homeowners may view actual results negotiated with their mortgage lender.
With firms like this offering free consultations and going to bat for struggling homeowners, there is no reason anyone should fight the banks alone. Amerihope Alliance stands out as a law firm achieving real results for Florida homeowners.
# # #