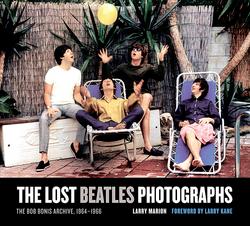 Howard Kramer, Curatorial Director of The Rock and Roll Hall of Fame and Museum said: "The Bob Bonis Collection is an unmatched view into the inner circle of the most iconic groups of all time. It's illuminating, humanizing and intimate."
New York, NY (PRWEB) March 19, 2011
The Fest For Beatles Fans, March 25-27, 2011 at the NJ Crowne Plaza Meadowlands Hotel in Secaucus, NJ will host the world premiere book release and photo exhibition of THE LOST BEATLES PHOTOGRAPHS: The Bob Bonis Archive, 1964-1966 by Larry Marion, foreword by Larry Kane (It Books; On-sale: March 22, 2011; Hardcover; $29.99).
The book features hundreds of the most candid, powerful and intimate photographs in public and private moments of The Beatles taken by their U.S. Tour Manager, Bob Bonis, as they toured the U.S. from 1964 – 1966, undiscovered, unpublished and unseen for over 45 years.
The Fest For Beatles Fans, the longest running fan celebration now in its 37th year, will also feature a special exhibition of photographs from the book. Author Larry Marion will be presenting a special audio/visual presentation on Saturday, March 26th at 1PM, and he and Bonis' son Alex Bonis will be signing books all weekend. Prints will be available for purchase.
This is a companion to Marion's "THE LOST ROLLING STONES PHOTOGRAPHS: The Bob Bonis Archive 1964-1966", published by It Books this past November and available wherever books are sold.
"The discovery of so many never-before-seen photographs of one of the most influential bands in rock history, captured at the most pivotal time in their careers, is a once-in-a-lifetime event," says author Larry Marion, founder/director of Not Fade Away Gallery, and an acknowledged expert in the field of music memorabilia. "In more than twenty years as a rock 'archeologist,' I've never come upon a discovery of this magnitude—thousands of extraordinary unpublished photographs of The Beatles and Rolling Stones — young, innocent and unguarded. This is likely the largest single trove of such important unknown photographs ever uncovered of the most influential bands in rock history at the most critical point in their careers: coming to and conquering America."
Howard Kramer, Curatorial Director of The Rock and Roll Hall of Fame and Museum said: "The Bob Bonis Collection is an unmatched view into the inner circle of the most iconic groups of all time. It's illuminating, humanizing and intimate."
About Bob Bonis: Unknown to even the most ardent rock fans, Bob Bonis played a significant role in the history of The Beatles. Starting as a New York talent agent in the late 1950s he came to hold an extraordinary position at a pivotal time in rock history—U.S. Tour Manager for both The Beatles and The Rolling Stones during their first U.S. tours in 1964 through 1966. His personal passion was photography, and he took photos of everyone he worked with—capturing incredibly intimate photos the world is about to see for the very first time.
About the Author: Larry Marion is recognized as one of the world's leading authorities on rock and music memorabilia, especially concert posters. He has worked with many of the leading auction houses, set several world-record prices for Beatles memorabilia, and written and designed sixteen catalogs of music-related memorabilia. Larry is one of the founders, and directors of NotFadeAwayGallery.com, which exclusively represents the photography of Bob Bonis. He lives in Brooklyn, collects memorabilia related to stand-up comedy, music and the 60s, and can be contacted at info(at)nfagallery(dot)com.
Media and Book Inquiries:
Kateri Benjamin
212.207.7708
Kateri.Benjamin(at)harpercollins(dot)com
Fest For Beatles Fans Contact:
Mark Lapidos
201-666-5450
mark(at)thefest(dot)com
###