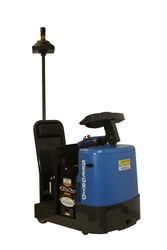 "Seegrid's robotic trucks easily integrate into our existing processes and works alongside our workforce, which helps drive performance and savings," said John Welling, Plant Manager at YUSA Corporation.
Pittsburgh, PA (PRWEB) March 21, 2011
See Seegrid at ProMat2011, Booth # 3936
McCormick Place South, Chicago, IL 60616 US
March 21 - 24, 2011
Pittsburgh, PA-based company, Seegrid, (http://www.seegrid.com) expanded its vision guided Robotic Industrial Truck product line with the launch of the powerful GT10™ Tow Tractor at ProMat2011, today. The Seegrid GT10 Tow Tractor has a 10,000 lb tow capacity, is vision guided, travels without a worker and does not require wires, tapes or lasers to work in operations.
Seegrid's Tow Tractor will optimize work flow processes within manufacturing facilities and distribution centers by reducing costs, increasing productivity and providing operational flexibility.
Seegrid's vision guided robotic GT10 Tow Tractor delivers affordable transport with a rapid payback period. This provides customers with the flexibility and benefits to spare including:

Allows workers to focus on higher value tasks within a facility
Perform multiple routes for one shift and easily change routes for second and third shifts
Reduces non value added manned travel time
About Seegrid:
From the start, our vision was to optimize business processes for the material handling industry. Why? Because we have known for a long time that there was a more advanced and efficient way to move pallets from point A to B. Seegrid was founded in order to develop vision guided robotic solutions for industrial trucks that navigate without wires, tapes or lasers. For additional information please visit us at http://www.seegrid.com or call 1-877-SEEGRID.
# # #