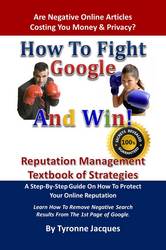 Google is now the new frontline in the battle against how to remove negative links, internet lies, cyber slander, and the removal of negative medical reviews from the first page of search results. Riz Condol
Mandeville, LA (PRWEB) March 20, 2011
It was announced on March 17, 2011 that Riz Condol will partner with Reputation Defense Online in a new campaign to prevent Internet Slander and Cyber Bully Attacks. This new partnership with Riz Condol and Reputation Defense Online will unite one of the nation's top Internet safety specialists with a public relations firm that has been on the forefront in the fight to improve search engine results.
This new endeavor will distribute the top selling Reputation Management Book 'How To Fight Google And Win' to consumers. How to fight Google And Win is a step by step guide that will equip victims of internet slander with the strategies needed to remove negative content off the first page of Google.
How to Fight Google and Win E-Book is offered through http://www.ReputationDefenseOnline.com and also includes 8 How To instructional online videos.
Riz Condol says his decision to partner with Reputation Defense Online in offering this internet slander fighting tool was motivated by the increase in online defamation of character attacks that take place each and every day.
"Google is now the new frontline in the battle against how to remove negative links,internet lies, cyber slander, and the removal of negative medical reviews from the first page of search results. We now know that internet searchers will trust the sites that appear on the first page of Google, which is the reason I decided to partner with the #1 slander removal site, http://www.ReputationDefenseOnline.com."
The updated edition of the E-Book is now 280 pages which also features a resource section as well as a customer service number for a free strategy session. Listed below are a few of the chapters included in How to Fight Google and Win.
"How to Fight Google and Win."
1. I understand
2. The Anatomy of an online attack
3. Why search engines could care less if it's true or not
4. What can we learn from Liskula Cohen vs. Google?
5. How to Flex legal Muscle
6. You Have The Right to Protect Yourself
7. Know your enemy
8. Goons & Goblins
9. Sexting Prevention – What happens after you press send
10. If you build it they will not come back
11. Fighting training- learn how to fight your negative content
12. Round 1- How to Remove Cyber Bully Attacks from the first page of Google
13. Round 2 -How to remove a negative article14. Round 3 -How to remove a negative blog or forum
15. Round 4- How to remove a negative complaint site
16. Round 5- How to defeat an aggressive attacker
17. Round 6- How to Protect your business from online slander
18. Round 7- How to remove negative links from court cases and convictions
19. Round 8- How to bounce back from negative publicity
20. Round 9- How to vanity search before your next job interview
21. Round 10-How to create positive publicity
Reputation Defense Online currently operates as an online Reputation Management Firm assisting consumers and business owners in protecting their brands from internet slander. Their reputation repair strategy is deigned to work within the major search engines like Yahoo and Google in order to bury or suppress negative search results that are embarrassing to their clients.
For more information on how to remove a negative article off the first page of Google or for media contacts regarding Reputation Defense Online please visit http://www.ReputationDefenseOnline.com
# # #