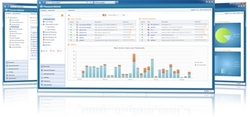 (PRWEB) March 21, 2011
Click Studios announces the next release of Passwordstate, a web based management platform for sharing sensitive passwords across teams of people. Version 5 introduces a range of new features and enhancements, and has a clear focus on protecting the integrity of sensitive data.
Version 5 is built on features requested by our customers, with improvements in the areas of role-based access, high availability module, increased corporate governance and compliance, improved usability, and faster access to most commonly used passwords. Other features include time-based access to passwords, customized fields, highly configurable password generator, additional authentication options, real-time password change notification, and reset reminders.
Passwordstate rises above its competitors by providing an enterprise password management solution which is affordable to all size organizations. Ranging from free for 5 users, right through to unlimited enterprise agreement with no restrictions on access roles.
To explore all the features available in Passwordstate, and to download your copy now, please visit us at http://www.clickstudios.com.au.
# # #