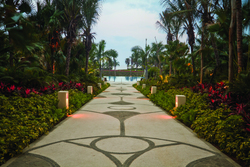 "As Grand Luxxe continues to meet the demands of the marketplace, we remain cognizant to use durable, yet sustainable materials like teak and other hardwoods during construction that our guests have come to expect from a Grupo Vidanta resort."
Nuevo Vallarta, Mexico (PRWEB) March 22, 2011
The Grand Luxxe today announced the unveiling of a new series of walkways connecting visitors to the myriad amenities the 5–star resort offers its discriminating guests.
Grand Luxxe Chief Architect Arturo Hernandez's design concept integrates the rich jungle environment with distinct Mayan culture for which the area is renowned. "As Grand Luxxe continues to meet the demands of the marketplace, we remain cognizant to use durable, yet sustainable materials like teak and other hardwoods during construction that our guests have come to expect from a Grupo Vidanta resort."
Planted with exotic, tropical foliage, the collection of walkways lets Grand Luxxe visitors explore the jungle and ocean settings without ever leaving the extensive resort grounds. The series of pathways serve as the lifeblood of the Grand Luxxe – one can lounge by one of the countless pools, enjoy fine dining at one of Grand Luxxe's many gourmet restaurants or visit other attractions along the way.
The Grand Luxxe in Nuevo Vallarta is more than just a luxury hotel. Since the doors opened for the first time in early 2010, the Grand Luxxe has served as the destination of choice for discriminating travelers. With twelve-foot ceilings, rooms ten times larger than the average American hotel (2,700+ square feet), Italian furnishings and amenities, and breathtaking views of the Pacific Ocean, the Grand Luxxe set a new standard for luxury hotel accommodations.
Learn more about Grand Luxxe by visiting us at http://www.grandluxxe.com.
About Grupo Vidanta
Founded by Daniel Chavez Moran in 1974, Grupo Vidanta has evolved for more than 35 years into one of Mexico's leading developers of hotels and resorts, golf courses, vacation ownership, and tourism infrastructure, including Mexico's first privately built and owned international airport at Puerto Peñasco. For American travelers, Grupo Vidanta offers a choice of full-service luxury beach resorts in Mexico's finest beaches, under the Grand Luxxe, Ocean Breeze, Sea Garden, Mayan Palace and The Grand Mayan brands. In the near future, new hospitality brands will include The Bliss, The Grand Bliss and Mansions of the World. Grupo Vidanta's Mayan Island has built and sold over 2,000 second homes. For further information see http://www.grupovidanta.com.
Media Contact: edward(at)firecrackerpr(dot)com, 1-888-317-4687 ext. 1, http://www.firecrackerpr.com
###