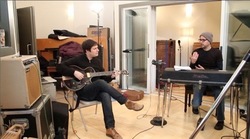 New York, NY (PRWEB) March 21, 2011
Ollabelle Guest Stars on Dubway Days
Producer Mike Crehore is hunched over his vintage mixing board in the control room of Dubway Studios. His eyes still on the video monitors, Mike says, "The question is not just whether we can write and record a great song…"
Singer-songwriter Ben Arthur, who is working nearby on a laptop and his Metric Halo ULN-2, finishes his thought, "But can we do it in one day?"
That question will be put to the dramatic test as Dubway Days launches its second episode on Monday, March 21st, 2011 on http://www.dubwaydays.com
The tagline for Dubway Days, "Two Artists… One Day… One Song," sums up the mechanics of the show, but its drama hinges on the immensity of that task. Ben Arthur and a guest artist—this week's episode features indie Americana darlings Ollabelle—begin a day of taping in the morning with absolutely no preconceived ideas for a song. Viewers get a front row seat to witness the false starts and eventual magic that evolves from the creative process. Once the song is written, producers Mike Crehore and Al Houghton take the lead to engineer and orchestrate a polished recording using the amazing tools of Dubway Studios.
"The whole process is wild and scary, with the potential for huge payoffs or embarrassing letdowns," says Arthur. "Just the opportunity to work with Ollabelle was a thrill. Simply put, they're some of the best musicians working today."
The band's admirers also include such legendary musicians as Richard Thompson, who brought Ollabelle to London to play his Meltdown festival, and T-Bone Burnett, who arranged for them to be featured on the Down From the Mountain Tour, playing alongside Alison Krauss, Norman Blake, and Ralph Stanley. Tours with Ryan Adams, Buddy Miller, and Diana Krall cemented their chops and their reputation.
"We jumped at the chance to have Ollabelle at Dubway," says producer Al Houghton, who co-owns the studio with Mike Crehore. Dubway Studios is often described as one of the few remaining great studios of New York City. Tucked away on the 22nd floor of an office building on Wall Street, Dubway possesses an all-inclusive wish list of legendary musical instruments and recording equipment, both vintage and new.
"We provide a great sounding room and the best recording equipment money can buy," says producer Al Houghton, "but what the musicians do with those tools…well, that's always the thrill!"
ABOUT BREAKTHRU RADIO
BreakThru Radio is "Radio Rediscovered" in a world where FM is out of frequency. In today's overly saturated music market, it is often difficult for listeners to find what they are looking for. BreakThru Radio has the solution. Listeners are given access to independent music from an expansive and diverse pool of genres, in addition to an innovative comedy & culture platform. Offering the best in music from around the world, BreakThru Radio brings its listeners tracks recorded exclusively for the BTR audience from our live studio. BTR offers on-demand access to its shows and on-the-go iPod capability. More information can be found at http://www.breakthruradio.com
ABOUT DUBWAY STUDIOS
Dubway Studios works with VH1, MTV, Nickelodeon, HBO, and practically every label out there, having recorded Ryan Adams, Patti Smith, Janet Jackson, Vampire Weekend, Bjork, John Legend, and many others. More information can be found at http://www.dubway.com
ABOUT BEN ARTHUR
Rolling Stone says, "Ben Arthur has the looks and hooks of John Mayer." Ben has released five albums and a novel, and has performed alongside Dave Matthews, Bruce Hornsby, Tori Amos, and many others. More information can be found at http://www.benarthur.com
Stay connected and up to date for the latest Dubway Days content on our social networks:
Follow Dubway Days on Twitter
Follow BreakThru Radio on Twitter
Like Dubway Days on Facebook
Like BreakThru Radio on Facebook
FOR MORE INFORMATION CONTACT:
Avi Ben-Zvi, BreakThru Radio, Phone: (914) 260-4012
abraham(dot)benzvi(at)gmail(dot)com
###