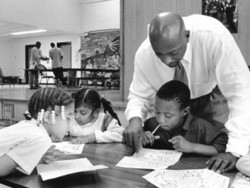 Indianapolis, IN (PRWEB) March 21, 2011
With drastic budget cuts at the local, state, and federal level, an overwhelming number of school districts across the country are eliminating traditional summer school for tens of thousands of struggling students.
In a recent American Association of School Administrators (AASA) survey, more than one‐third (34 percent) of superintendents are considering the elimination of summer school for the 2010‐11 school year, a rate that has roughly doubled each year, from 8 percent in 2008‐09 to 14 percent in 2009‐10.
Yet, in the wake of well-publicized cutbacks, there are school systems that are bucking this trend and making very different fiscal and programmatic decisions. Education leaders in states such as California, Indiana, Illinois, Maryland, Michigan, and Ohio are using scarce resources to offer more creative, cost-efficient, and effective alternatives to the traditional remedial, punitive model of summer school.
In California, a state legislative task force recently recommended that all school districts spend up to 15% of their Title I funding on quality summer programs that provide enrichment opportunities. In Chicago, a district that has long offered remedial summer school, district officials are creating more comprehensive summer programs and offering them to students based on economic need rather than academic performance. In Cincinnati, the school district is dramatically expanding its Fifth Quarter program, which focuses on providing full-day summer instruction and enrichment to low-income students.
Earl Martin Phalen, CEO of Summer Advantage USA, one of the nation's few evidence-based summer learning programs, says that their organization will serve close to 10,000 students, nearly five times the number of students they served last summer, in more than five cities throughout the Midwest this summer. "We have strong partnerships in school districts where leaders understand and value how we can help them deliver better results at scale and at a lower cost than if they had run the programs by themselves," Mr. Phalen said.
Last year, Summer Advantage USA made a significant impact on Indiana schools districts. State test scores for Indiana third graders enrolled in the program increased nearly 16 points in language arts and 12 points in mathematics. "While we are pleased with those results, we also recognize that there are millions of children still in need of our services."
Summer Advantage USA helps superintendents, school boards, mayors, and nonprofit leaders respond effectively to the mounting evidence about the impact of summer learning loss on educational achievement of our nation's most vulnerable youth. Research demonstrates that low-income children lose nearly three months of reading achievement each summer of the elementary school years. These losses accumulate over time and result in children being over two years behind their higher income peers by the time they reach middle school.
In addition to operating quality summer programs, Summer Advantage USA also recommends that all parents should do the following to help prevent summer learning loss:
1. Find quality programs in your community that offer young people a balance of academic support and fun activities.
2. Encourage children to read daily. Visit the library and make sure that your child participates in your community's summer reading program. Set a goal to read at least 10 books together this summer.
3. Establish healthy routines that ensure that your child eats well and gets at least 60 minutes of physical activity every day.
4. Have some fun exploring your child's interests and hobbies.
5. Explore your community by attending free events, visiting museums, and engaging in community service.
Summer Advantage USA has been recognized as a quality program by the White House initiative United We Serve and Time Magazine.
Co - Chair of Massachusetts Governor Deval Patrick's Education Task Force, Mr. Earl Phalen has more than 20 years of experience in the field and is one of the nation's leading experts on the issues related to education reform and expanding learning opportunities during the summer months.
Mr. Earl Martin Phalen is available for interviews at (617) 818-1959 or emphalen(at)summeradvantage(dot)org.
###