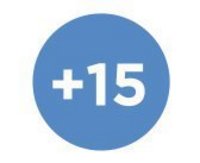 Our goals for this campaign are to raise money for Down syndrome cognition research, and to increase awareness around the need for funding at the federal level.
Palo Alto, CA (PRWEB) March 21, 2011
In honor of World Down Syndrome Awareness Day, today the plus15 campaign is matching all donations 3:1 through its website,http://www.plus15.org. plus15 is an initiative of the Down Syndrome Research and Treatment Foundation (DSRTF) to accelerate research to improve learning, memory, and speech for people with Down syndrome and make it possible for them to live more independent lives.
According to Executive Director Chris Rose, "Federal funding for Down syndrome is only $55 per person. On average, that's about 95% less than what the government spends on research for similar disabilities. Our goals for World Down Syndrome Day 2011 are to raise money through this matching program, and also to raise awareness around the need for more federal funding for this research."
Launched in February 2011, the plus15 campaign provides an easy way for individuals to support cognition research by donating to the cause and inviting others to join the effort. The concept of "plus15—Increasing learning and independence" is simply for individuals whose lives have been touched by Down syndrome to take 15 seconds, to give $15, and tell 15 friends to participate in an effort to accelerate the development of treatments that could improve cognition by 15%. To date plus15 has raised more than $150,000 through hundreds of small donations.
As part of World Down Syndrome Day, plus15 is also assembling a "photo petition" to advocate for increased funding for Down Syndrome research. The photos are being collected through plus15's Facebook page (http://www.facebook.com/plus15) and will be sent to members of Congress.
According to Rose, "Through this photo project for World Down Syndrome Awareness Day 2011, we are sending a powerful message to our policymakers that people with Down syndrome deserve more -- more opportunities for learning and independence, more hope that their lives will be better, and more funding for research."
About the Down Syndrome Research and Treatment Foundation:
The Down Syndrome Research and Treatment Foundation (DSRTF) is a national non-profit organization headquartered in Palo Alto, California, aimed at accelerating the development of treatments to significantly improve cognition, including memory, learning and speech, for individuals with Down syndrome. DSRTF funds research at major research centers, including Johns Hopkins Medical Center, Stanford University, University of San Diego, and University of Arizona. Since its founding in 2004, DSRTF has generated more than $7 million to fund results-driven research programs that will benefit children and adults with Down syndrome.
###