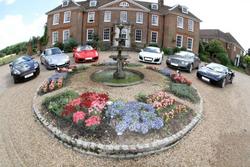 Our tours are the ultimate bucket list experience for car lovers
(PRWEB) March 22, 2011
For car enthusiasts, in terms of 'things to do before you die', Ultimate Driving Tours definitely have it covered. Since 2007 the company has been creating experiences for petrol heads all over the world.
Ultimate Driving Tours have created an unbelievable and exclusive six day tour in the USA combining some of the world's best Supercars, a private jet, a NASCAR drive day and VIP hospitality and access at arguably the best motorsport event in the world: The Indy 500.
UDT director, Anthony Moss, describes the tours as the "ultimate bucket list experience for car lovers". "Our tours are designed for people who would rather be out there doing it, than sitting on the sidelines watching. Our clients actually get seat time in genuine racing cars on real race tracks, or have the opportunity to drive the world's greatest Supercars on some of the world's great driving roads."
For the American tour, clients will meet in Chicago for dinner and drinks, and then be whisked away to Michigan International Speedway to drive a real NASCAR, then head south to experience the biggest one-day sporting event in the world, the Indy 500 in VIP corporate hospitality. After Indy, UDT clients will board their private jet bound for Las Vegas, where several of the fastest and most exciting cars on the planet will be waiting for a two-day tour through Nevada, Utah and Arizona on some of the best driving roads in the country.
Numbers for the tour are limited and pricing depends on the amount of time you will spend with the tour. Pick up the first four days for $7,900 or board the private jet to Vegas to drive Supercars and the total investment is $14,900. For full pricing details, inclusions/exclusions please contact us.
###