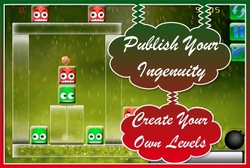 Discover the fun game your friends are talking about - play tPori now!
Sunnyvale, CA (PRWEB) March 31, 2011
Schogini Systems has launched tPori, a strategic puzzle game for iPhone that requires users to put their ability to think quick and plan perfectly to move a fireball across a series of blocks to ignite the bomb. The game offers multiple levels of challenging game-play, plus the ability to extend the game by creating custom levels that can be shared with the entire tPori playing community which is said to be growing exponentially. In fact, the company has come out with a blast of an offer that will reward an iPad 2 to the person who submits the top rated level.
Schogini Systems will be running a contest for their latest, explosive game – tPori, from March 31 to April 30, 2011, for the most popular level designer. Create a challenging level for tPori and you could be the winner of an iPad 2! Top rated levels will be added to future tPori releases with the level creator's name engraved.
In tPori, the objective is to move a fireball across a maze of blocks to ignite a bomb as quickly as possible. Players will need to avoid all of the Green Elements, which will extinguish their fire balls, while using the friendlier elements to help accomplish their mission of igniting the bomb and making it explode.
Some of the blocks in tPori can be removed with a tap, while others are immovable. The player's success with tPori lies in quickly understanding the elements and creating the perfect strategy to solve the puzzle. This game offers the players an 'undo' option in every level, so they can reconsider their strategy after each move. This unique feature allows gamers to better their game-play each time.
With tPori's unique Level Builder, players have the opportunity to design their own challenging and innovative levels. They can share these designs with other players in the tPori playing community. tPori's Level Loader enable players to install levels designed and created by others. Added to this the most popular designs will be permanently added to future versions of the game, with the creator's name engraved. Also, gamers can play and add levels from the Global level list into their favorite list, play it and also rate it. The application also allows you to share your thoughts via Facebook, Twitter and Email. It also allows you to send feedback about the game-play.
"We're excited about this game because it includes all the elements we enjoy in a good game – quick thinking, smart strategy and explosions!" said Ajith Kumar, the company's spokesperson. "It provides unlimited possibilities to explode the bomb with the fireball. The key is to blow the whole thing up as quick as possible."
tPori features:

Innovative game of strategy that is fun and captivating
An addictive game of skill and strategy that is easy to learn, but hard to put down
Race against time to score the most points
3 skill levels make the game fun for both beginners, experts and veteran gamers
Veteran gamers can publish the solutions for a level to the tPori playing community
tPori is available on the App Store for just US$1.99. More details on the game and the iPad 2 contest for custom level creators can be found at the company's website, http://www.schogini.in
About the Developer - Schogini Systems:
Schogini Systems has the best engineers at work churning out apps using the state of the art iOS SDKs, and their expertise is in Physics, 2D, Game Center/Multi-Player based Apps. Schogini Systems' recent free iPhone app 3D Globe demonstrates how to import and interact with a 3D object in iPhone. The PHP expertise of Schogini Systems has made it almost an exclusive payment gateway integrator for Magento, Prestashop and OpenCart ecommerce platforms.
Schogini's most recent physics iPhone app is tPori http://schogini.in/app-websites/tpori/
Schogini Systems' CTO/Magento expert Gayatri, Smart Phone Development Head Ajith, along with the Founder/CEO Sree, will be in CA area during April-May for any discussions.
Schogini Systems is ISO 9001-2008 Certified for Software Development and Customer Support.
Blast your way!!
###