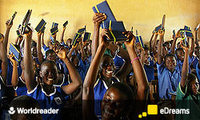 This a once in a lifetime opportunity to travel to Africa, be involved with a worthy cause and start the summer with an unforgettable experience. We are very proud to be supporting such a forward-thinking
Barcelona, Spain (PRWEB) March 21, 2011
eDreams, one of Europe's largest online travel agencies and Worldreader, a charitable organization whose mission is to bring books to children and families in the developing world, today launched a contest where the winner will have the opportunity to volunteer for a week with Worldreader in Ghana. Worldreader currently has the largest pilot of e-readers in the developing world: 500 e-readers in six schools in Kade and Adeiso, Ghana. Students and teachers there have gone from having no books to tens of thousands. The digital nature of e-books allows large quantities to be sent immediately with nearly no distribution cost and allows students and families to choose which books they want to read - something unique in development projects.
To enter the contest, participants must submit a video and answer the question: "Why do you want to help Worldreader bring 'Books to All' in the developing world?" Entries will be accepted from March 21- March 30 and can be submitted to a Facebook page especially created for this event: (http://www.facebook.com/worldreader?v=app_115519521859812). Peer voting will occur between March 30 - April 1, and the winner announced April 4th. The winner will travel to Ghana early this summer and will spend a week volunteering at schools in the Worldreader Program.
"Students and teachers immediately understand that this technology will allow them to change their life," said Worldreader's Director of Communications, Susan Moody. "And students are reading more than our wildest dreams - everything from local stories like Ananse's Magic Drum to The New York Times."
Bob Samii, eDreams's Social Media Manager, said "This is a once in a lifetime opportunity to travel to Africa, be involved with a worthy cause and start the summer with an unforgettable experience. We are very proud to be supporting such a forward-thinking initiative."
About eDreams
eDreams is one of the largest independent European online travel agencies. The company is based in Barcelona, Spain and offers services in Spain, Italy, France, Portugal, Germany, UK, Australia, Brazil, Canada, Mexico, Chile, India, Peru, Venezuela, Argentina, Colombia, Switzerland, USA, and the global English-speaking markets through their web properties: edreams.es, edreams.it, edreams.fr, edreams.pt, edreams.de, edreams.co.uk, au.edreams.com, edreamsviagens.com.br, ca.edreams.com, cl.edreams.com, edreams.in, edreams.pe, edreams.ch, edreams.net and edreams.com.
The company offers a large selection of flights, hotels and vacation packages at competitive prices and makes them available to its clients through booking engines with the latest pricing and search technology. Permira acquired eDreams from the previous majority stakeholder, TA Associates, in August of this year.
About Worldreader
Worldreader.org is a not-for-profit organization whose aim is to put a library of books within reach of every family on the planet, using electronic book technology. Just as mobile phones have leapfrogged landlines across much of the developing world, Worldreader.org is helping make e-readers become the easiest, least expensive, and most reliable way to deliver books to underserved areas and underprivileged peoples. Founded in 2009 by former Microsoft and Amazon.com executive David Risher, and Head of Marketing at Barcelona's ESADE Business School, Colin McElwee, Worldreader.org has successfully conducted e-reader trials in Barcelona, Spain, and in the village of Ayenyah, Ghana, and launched the iREAD pilot in November with the support of Ghana's Ministry of Education. Worldreader just signed an agreement with The Kilgoris Project to begin an e-reader program in Kenya. We rely on the generous help of our donors and such partners as Amazon (NASDAQ:AMZN), M-Edge, suppliers of e-reader covers and lights, and ILCAfrica who will be evaluating the impact of Worldreader.org's work.
# # #