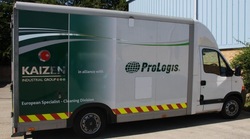 (PRWeb UK) March 22, 2011
This new alliance will see the British company using their expert teams to consult, inspect and report on Prologis' portfolio, as well as cleaning and refurbishing Prologis building facades across 11 European countries.
Kaizen Group Managing Director, Rob Burnett, said "Prologis are probably the first major company to recognise that strategic cleaning and protection of facade coatings reduces the lifetime cost of a building. We're absolutely delighted and very proud to be working with such a great company."
Following a pilot scheme in 2010, Kaizen cleaned over 200,000 square meters of Prologis building facades in just one month. It was this dedication, tenacity, and the skills and expertise of the Kaizen Team, that led Prologis to award the contract.
As well as looking after Prologis' buildings, Kaizen are also busy using their specialist stone-cleaning skills to bring great British buildings (such as the Imperial College, Lillywhites and Criterion) back to life, ready for the 2012 London Olympics.
More about Kaizen Group
Kaizen have been bringing buildings back to life in the UK and across Europe for over 20 years.
With their wealth of expertise in building materials (glass, plastic, brick, block, stone, steel, aluminium, iron, concrete, wood, cladding, tile, and paint) Kaizen clean, refurbish and restore building facades, making sure they go on living afterwards.
Kaizen have worked on thousands of clad buildings including; warehouses, logistic & distribution centres, industrial units, showrooms, shopping centres, offices, furniture retailers, university buildings, science parks and factories.
And, as well as facade inspection, cleaning and refurbishment across the UK and mainland Europe, Kaizen also specialise in cleaning, repairing and restoring stone building exteriors in London. Old, new, limestone, sandstone, marble, granite, slate, listed, historic, modern... Kaizen's skilled team carry out holistic restoration to suit the building's needs.
Kaizen help some of the largest companies across the UK and Europe maintain, restore and refurbish their buildings, increasing life-spans and saving clients' money through inspecting, reporting, advising, cleaning and protecting.
Put simply, they're very good at what they do.
Read more at http://www.kaizengroup.co.uk
###