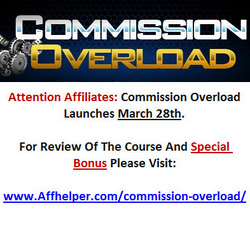 Commission Overload Is Not Theory
Los Angeles, CA (PRWEB) March 22, 2011
Tim Atkinson Kicks Off New Year With Commission Overload Launch on March 28 2011. Commission Overload is an internet marketing training that will help affiliate marketers learn how to build and run a profitable affiliate business on the internet.
Tim Atkinson is a successful internet marketer who created a 7 figure online business and was able to make himself a household name on the internet marketing scene.
His main goal is to set new standards in the affiliate marketplace and teach others how to replicate his success in the shortest time possible.
The Commission Overload course was initially released on the Warrior Forum (the #1 internet marketing forum since 1997), and within first 48 hours over 1000 units have been sold. The overwhelming positive feedback generated from the initial release pushed Tim towards launching his training to the general public.
Commission Overload is now officially in prelaunch until March 28.
The course consists of 3 main modules.
The first module "Make Commissions Today" was strategically placed inside the course to get affiliates up to speed and help them make money online by generating their first affiliate sales. The strategies revealed inside this module work fast and are easy to implement. This part of the training includes over 5 hours of content and is delivered in a step by step format.
Second module which Tim calls "CPA Cash" is going to show affiliate marketers how to properly promote CPA offers on the internet. This part of the course covers a lot of topics related to CPA marketing and how to drive targeted traffic to these offers.
Some of the techniques revealed by Time Atkinson inside this module are a little controversial and have already generated a lot of buzz in the internet marketing world.
Inside "CPA Cash" module Tim shares a lot of methods which he claims "work now…" and are proven to generate results for some of the top affiliates in the industry.
The last module of the Commission Overload training course takes marketers behind the scenes of a real 7 figure internet business that Tim has created. This part of the course is going to teach some very cutting edge strategies that work today and are proven to be effective.
The Commission Overload registration opens on March 28 and during the prelaunch phase Tim is giving away prizes plus a lot of great content free of charge.
To find out more information about the Commission Overload please visit:
http://www.affhelper.com/commission-overload/
###