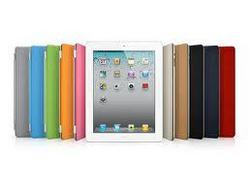 'xxMartinxx' has purchased the brand new iPad 2 at an incredibly discounted rate of 88 percent off!
(PRWEB) March 22, 2011
A remarkable triumph coming from penny auctions giant BidRivals.com. Customer 'xxMartinxx' is amongst the most content customers ever! Having just purchased a brand new iPad 2 for only 3.42 USD. When it came to bids, postage and packaging, the total cost for this product was just 57.42 USD. All in all this customer saved 345 dollars off the retail price, making him a happy and proud owner of the coolest Apple Tablet out yet!
This new Apple iPad was the first to be released for auction by the Penny auction giant BidRivals.com. By using BidRivals' entertainment shopping system 'xxMartinxx' has purchased the brand new iPad 2 at an incredibly discounted rate of 88 percent off! This customer isn't the first person to profit from BidRivals incredible entertainment shopping and he will definitely not end up being the last either.
The release of the new iPad 2 on BidRivals.com marks out an easy access route for apple aficionados to purchase the tablet at highly discounted rates. BidRivals reports that business growth through the discounted sales of high tech home electronics such as the new iPad 2 has been phenomenal. The potential of benefiting from BidRivals' high discounts is hard to beat by standard retail stores.
The company offers customers the ability to get up to 90% off brand new, premium quality merchandise via its entertaining Auction bidding system. BidRivals also operates as a traditional Online Retailer as it offers customers the option to purchase an item outright. With new items added to the catalog every week, BidRivals takes pride in offering choice and variety and 24/7 customer support.
About the Company
BidRivals Ltd owns and operates BidRivals.com, an Online Retail and Auctions portal. Based in Malta, the company also has regional offices in USA and Australia. Operating since July 2009, BidRivals.com is one of the oldest Penny Auction operators in what is still a very fledgling industry.
For media enquiries contact:
Keith Montanaro
e-mail: keith(at)bidrivals(dot)com
###